The Stingray Review
The Stingray: The Lethal Tactics of the Sole Survivor
Shadow Lawn Press, 2000.
Trade Paperback, 288 pages.
ISBN: 1885840039.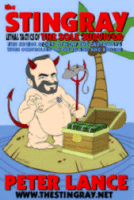 Survivor, the smash hit reality television show of the summer of 2000, was an entertainment phenomenon. The winner of the grueling contest, Richard Hatch, was infamous for his cutthroat tactics and notable lack of clothing. Hatch became the man that America loved to hate, as he formed and reformed alliances on the island and maneuvered his way to winning the $1 million dollar prize. After the winner was announced, Hatch teamed with Emmy award-winning investigative reporter and bestselling author Peter Lance for a six figure tell-all book deal with St. Martin's Press. But Hatch misrepresented that he had permission from CBS to tell his story, and the deal fell apart at the last minute. Feeling as betrayed as the other members of Rich's tribe, Lance decided to write the book anyway. After all, he had spent all summer with Richard listening to his life story. And what a story it was.
From his boyhood as an overweight, unhappy, sexually abused child to his stints at West Point and in the corporate world, Richard Hatch maintained one guiding principle: putting himself first. The Stingray is the only unbiased, true insider's telling of both Richard Hatch's life and his underhanded tactics on the island. The most shocking facts in the book, however, are those which show that CBS, through producer Mark Burnett, deliberately manipulated the show and its outcome, which would be a violation of federal game show laws, similar to what happened in the infamous quiz show scandals of the 1950s. Another revelation is the extent of the so-called "Life Rights" contracts which the contestants signed, giving up most of their rights to make money off their newfound fame.
Using his reporter's skills and instincts, Lance turns in a first-rate insider's look at a true media phenomenon, and raises some very provocative and disturbing questions about the veracity of what was portrayed to millions of television viewers as "reality". With a fast-paced, compelling delivery, Lance's book reads more like a fast-paced thriller than a nonfiction work; you won't be able to put it down. The outrageous and creative caricatures of Hatch by popular artist Zeebarf are an added attraction to the book. This is a must-buy for any Survivor fan.
--Claire E. White
Ordering information: Amazon.com.
---
More from Writers Write
---