The Reptile Room by Lemony Snicket Review
The Reptile Room (A Series of Unfortunate Events, Part 2)
by Lemony Snicket, Brett Hilquist, Illustrator
HarperTrophy, August, 1999.
Hardcover, 192 pages
Reading Level: Ages 9 - Adult
ISBN: 0064407675.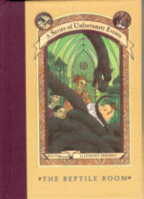 In Book 1 (The Bad Beginning) we saw the unfortunate Baudelaire children experience the death of their beloved parents and a series of horrific events as their new guardian, the smarmy Count Olaf, treated them in a despicable manner and tried to steal their fortune. The authorities finally intervened. Now, in Book 2 the courageous children are sent to yet another relative -- Montgomery Montgomery, the noted herpetologist. When they arrive at their new home (with snake-shaped hedges) they wonder, "Would Dr. Montgomery be a kind person?...Would he at least be better than Count Olaf? Could he possibly be worse?" But Dr. Montgomery has a twinkle in his eye and kindly invites them in for some fresh-baked coconut cream pie. Then, after informing them that they will soon be leaving for an exciting trip to Peru to collect more reptiles, he gives each child his own room, and invites them into the reptile room to see his fascinating exhibits. Violet, Klaus and the baby, Sunny, cannot believe their good fortune -- and, of course, they really shouldn't, given the way their luck has been running.
This second installment in the series of unfortunate events of the courageous Baudelaire children is laugh out loud funny, as well as being somewhat alarming. The author and narrator, Lemony Snicket, is as mysterious and mournful as ever, although we get tantalizing glimpses of his lifestyle once in awhile. He apologizes to the reader for leaving him hanging at the end of the previous chapter, but explains that he was late for a formal dinner party given by his good friend, Madam diLustro, "an excellent detective, and a fine cook, but she flies into a rage if you arrive even five minutes later than her invitation states..."
But we still have no clue as to what Mr. Snicket's relationship to the Baudelaires is. Surely, in time, all will be revealed. In the meantime, lovers of witty prose and sly humor will be spellbound by this wickedly wonderful series. Highly Recommended.
--Claire E. White
Ordering information: Amazon.com.
---
More from Writers Write