The Bad Beginning by Lemony Snicket Review
The Bad Beginning: A Series of Unfortunate Events
by Lemony Snicket
HarperTrophy, August 1999.
Hardcover, 162 pages
ISBN: 0064407667.
Ordering information:
Amazon.com.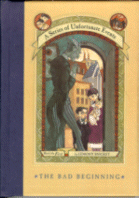 "I'm sorry to say that the book you are holding in your hands is extremely unpleasant." So reads the note from the author to the reader of this amazing new series from the mysterious and elusive author
Lemony Snicket
. The charming and clever Baudelaire children have just gotten some horrible news. Their parents have perished in a terrible fire which also claimed their house. The three children, Violet, Klaus and the baby, Sunny, must go live with their distant cousin, the detestable and thoroughly weird Count Olaf. Count Olaf treats them shamefully, all the while scheming to get his hands on the fortune they inherited from their deceased parents. It will take all of the ingenuity and courage of the three siblings to defeat the evil Count Olaf, but, as the author warns us, don't expect a happy ending.
The Bad Beginning
is a wickedly funny book with a biting wit and wonderful illustrations. The morose narrator's tone is a perfect accompaniment for the bizarre and witty story, which owes more to Douglas Adams than it does to Ronald Dahl in its cheerful acceptance of the blatantly absurd. The always cheerful, always brave Baudelaire children leap from one disaster to the next, leaving the reader to hope against hope that the narrator is putting him on, and that a happy ending is just around the corner. Although published as a Young Adult title, this is one book that discerning adults will adore. Highly recommended.
--Claire E. White
A Series of Unfortunate Events continues with the second book,
The Reptile Room
.
---
More from Writers Write