The Angel of Darkness by Caleb Carr Review
Random House, Sept., 1997.
Hardcover, 626 pages.
ISBN: 0679435328.
Ordering information:
Amazon.com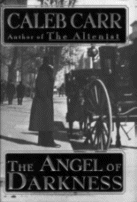 A year has passed since the intrepid team of Dr. Kriezler, Mr. Moore, Sara Howard, young Stevie and the Isaacsons hunted down serial killer John Beecher in the stunning historical thriller
The Alienist
. This sequel to
The Alienest
pits the unusual team against a formidable and terrifying foe who has kidnapped the baby daughter of the wife of a Spanish diplomat. As they investigate the case, it quickly becomes clear that this is no ordinary kidnapping and that their foe has committed numerous other crimes against innocent children and must be stopped before more children are murdered.
Caleb Carr once again hits the mark in this brilliant sequel. Part history text, part action-adventure and part psychological thriller,
The Angel of Darkness
is not for those looking for a quick, lighthearted read. But for those who are willing to delve into the world of turn of the century New York, the trip is well-worth it. Filled with delicately shaded characterizations, historical figures whose actions are seamlessly interwoven into the story as well as a sometimes shocking portrayal of the social underbelly of 1890s New York,
The Angel of Darkness
is a must read for lovers of Sir Arthur Conan Doyle, history buffs and fans of the modern psychological thriller.
---
More from Writers Write
---