Romance Book Reviews
Page Two of Two
Joining by Johanna Lindsey
Avon Books, May 1999.
Hardcover, 377 pages.
ISBN: 0380975351.
Ordering information:
Amazon.com.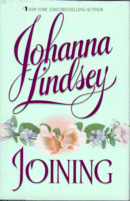 In 1214 England, marriages were of utmost importance in securing political alliances and financial security. Love rarely entered into the equation in the England ruled by the despised King John. Arranged by their fathers, the marriage of Lady Milisant and Wulfric, the son of the Earl of Sheffield, is not desired by either of the parties after a disastrous meeting when they were both children. Now Wulfric is determined to do his duty and wed the awful she-devil he remembers. But when Wulfric meets Milisant he is in for a big surprise. For one thing she's gorgeous -- and for another, he finds himself powerfully attracted to her. But Milisant, who would rather be hunting or running around in a boy's clothes than acting as the lady of the manor, is determined to get out of the marriage at all costs. As the couple gets acquainted it looks like they might find some common ground, only someone seems to want Milisant dead. Will the couple ever find true love?
The incomparable Johanna Lindsey has done it again with her latest novel. King John's England makes a wonderful backdrop for this story. Milisant and her twin sister Jhone are intriguing characters with great appeal. Wulfric is a strong hero with a sensual side that will take your breath away. The pacing is brisk and the dialogue is delightful; Lindsey fans should flock to bookstores for this one.
---
Priceless by Mariah Stewart
Pocket Books, June 1999.
Paperback, 366 pages.
ISBN: 0380803666.
Ordering information:
Amazon.com.
Rachel Chandler loves her job as an underwater salvage expert. Working with her successful salvage expert father Gordon Chandler is wonderful, although she wishes her father would recognize how grown up she is. When her father picks her to assist on a salvage operation to raise a paddle boat which sunk during the Civil War, at least Rachel is in charge -- although she'd rather be looking for treasure on a different operation which her father and brother are working on. Rachel's job is fraught with difficulties from the beginning. The owner of the wreck is wealthy, secretive and strange. Then, to make matters worse, the underwater archaeologist hired for the occasion, Dr. Sam McGowan, is handsome, talented, and disappointed that it's Rachel in charge and not her father. The couple find themselves falling in love, but violence seems to surround them. What is really buried on the ship? And will they survive the expedition to find out?
Sam and Rachel make a passionate and entertaining couple, and the danger surrounding them adds spice to the tale. The day to day life of a salvage crew who looks for treasure buried by the sea makes for interesting reading, and the appearance by the McGowan family ghost adds a delightful mysterious touch to the story. Lovers of romantic intrigue will find Mariah Stewart's latest novel to be truly
priceless
.
---
Click here for Romance Reviews Page One
Return to Book Reviews Index
---
More from Writers Write