Romance Book Reviews
Page One of Two
The Cowboy and the Vampire by Clark Hays and Kathleen McFall
Llewellyn, May 1999.
Trade paperback, 318 pages.
ISBN: 1567184510.
Ordering information:
Amazon.com.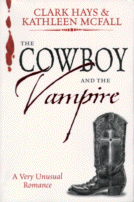 When New York reporter Lizzie Vaughan gets an assignment to write about the vampire pretenders in the city, she gets the shock of her life when she finds out that not only are vampires real, but that she herself has over 2000 years of royal Vampiric blood running in her veins. What's worse, the head of the local group, a powerful vampire named Julius, is determined to make Lizzie a full-fledged vampire and to rule at his side. With the help of her cowboy boyfriend Tucker and a motley collection of friends, both vampire and human, Lizzie will be entangled into a war between good and evil -- with terrible stakes.
The Cowboy and the Vampire
is an unusual, fast and funny romance which fans of
Buffy the Vampire Slayer
should love. The humor is slightly dark and the contrast between the good old boy Tucker and the evil scheming vampires is quite funny, although a little of Tucker and his "aw shucks" style goes a long way. A fresh look at the vampire mythos also adds to the enjoyment. Vampire lovers shouldn't miss this one.
---
Jade Island by Elizabeth Lowell
Avon, April 1999.
Paperback, 372 pages.
ISBN: 0380789876.
Ordering information:
Amazon.com.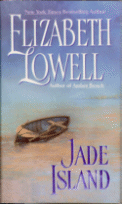 Lianne Blakely has never been accepted by her Chinese family -- the powerful Tangs. The daughter of Johnny Tang and his longtime American mistress, Lianne has used her expertise in jade to gain a position of trust in the family import/export business. When one of China's most beloved jade treasures is stolen, an international uproar ensues. Enter Kyle Donovan, of the powerful Donovan import firm. Kyle is given orders by the president of his company: find out if Lianne Blakely is involved in the theft of Chinese jade artifacts. Meanwhile, Lianne has also been given orders by her family to get to know Kyle -- the Tangs would love to have a better relationship with Donovan International. The pair meet at a charity auction and soon become entangled in a web of international intrigue, danger, passion and conflicting family loyalties.
Jade Island
is an absolutely fascinating book. The lore of jade and its importance in Chinese culture is interwoven with the romance between Kyle and Lianne, giving it an exotic feel. Lianne is a marvelous character -- full of life, energy and pain from being half-Chinese and half-American. This is the second book in the Donovan family trilogy started with
Amber Beach
, but can easily be read as a stand-alone. Eizabeth Lowell is an outstanding talent in this genre -- don't miss
Jade Island
. Highly recommended.
---
Click here for Romance Reviews Page Two
Return to Book Reviews Index
---
More from Writers Write