Romance Book Reviews
Page Two of Two
Key West by Stella Cameron
Zebra Books, May 2000.
Paperback, 448 pages.
ISBN: 0821765957.
Ordering information:
Amazon.com.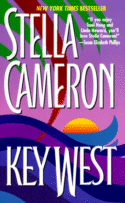 Eight months ago Sonnie Giacano lost everything she loved in life: her husband, her baby and most of her memory. The police told her that after she got the news that her celebrity tennis star husband Frank was kidnapped, she drove her Volvo into a brick wall in a suicide attempt. But Sonnie knows she's not the type to commit suicide, and nothing about the incident seems right. She returns to her home in Key West at the beginning of hurricane season and hires former NYPD detective Chris Talon, now a private investigator, to find out if her husband is still alive and what really happened that night. Sonnie's sexpot sister and her handsome and oh-so-smooth-talking brother-in-law Romano claim that the wealthy Sonnie is mentally disturbed because she hears strange voices at night and seems to hallucinate. Chris doesn't know what to think, but he definitely feels a growing attraction to Sonnie that he thinks is reciprocated. As the storms move in, events unfold that have Sonnie unsure whether she is sane -- or if someone is deliberately trying to drive her mad. There are big stakes involved here; Chris and Sonnie will have to learn to trust one another if they want to get out of Key West alive.
Key West
is the kind of romantic suspense novel that keeps you up all night, as you breathlessly turn each page. Stella Cameron is a master of pacing, and the suspense builds steadily until the exciting denouement. Chris Talon, the ex-cop who has his own demons to deal with, is a perfect foil for Sonnie, the wealthy little girl whom everyone has bossed around her entire life. But Sonnie is tougher than she looks; she's endured months of physical therapy from the accident and has adjusted to the horrible scars that show where she was burned. Her relationship with Chris is touching and believable. Chris' brother Roy and his partner Bo provide some perfectly timed moments of comic relief throughout the book. The local color of Key West adds texture to the story, as do the incessant storms. Be sure to pick up
Key West
(just out in paperback) for some truly entertaining summer reading.
---
On a Long Ago Night by Susan Sizemore
Avon, May 2000.
Paperback, 374 pages.
ISBN: 0380804190.
Ordering information:
Amazon.com.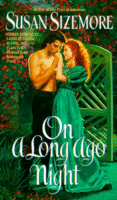 Years ago, Honoria Pyne was captured by Barbury pirates. Honoria's sniveling fiancé, Derrick Russell, urged Honoria to give herself to the pirate Diego Moresco so that Derrick wouldn't be harmed by their captors. Diego accepts her terms and takes her as his mistress, and spares the life of Derrick. Once back in England, Derrick spurns Honoria as used goods and decamps. Honoria never married, nor did she forget her nights of passion with the mysterious Diego. So it is an unbelievable shock when Diego shows up at a ball at her home, apparently the long-lost son and heir of one of her father's best friends. Honoria must marry -- she is the heiress to the title of Duchess -- and Diego (now James Marston) is determined to make up for the past and become her husband. Honoria has sworn off passion and refuses to have anything to do with the pirate who stole her heart, no matter how respectable he seems to have become. But James is a stubborn man, and Honoria is perilously close to giving into her feelings. Can James right the wrongs of the past and show Honoria what joy true love can bring?
With flashbacks of Honoria's time spent as a captive with the handsome pirate Diego, Susan Sizemore slowly reveals this incredible love story which has its roots deep in the past. The present day story has humor and wit, and the tall, bespectacled red-headed heroine (think Nicole Kidman in glasses and unappealing clothing) is a breath of fresh air with her love for books and her outspoken opinions. This is a heroine who has had some hard times, and refuses to give up. She and the handsome, rascally Diego/James are a superb pair, and their story is simply enchanting.
---
Romance Reviews
Page One
|
Page Two
Return to Book Reviews Index
---
More from Writers Write