Romance Book Reviews
Page Two of Two
More and More by Stella Cameron
Warner Books, April, 1999.
Paperback, 395 pages.
ISBN: 0446606138.
Ordering information:
Amazon.com.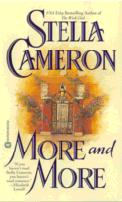 At 29, Finch More is considered "on the shelf" in Regency England. She's made a life for herself as the co-owner of a shipping firm with her brother, and has rooms in a former glorious mansion located at 7 Mayfair Square, along with several other boarders (and a crotchety and meddling old ghost). When Ross, Viscount Kilrood, a mysterious and handsome troubleshooter who takes on commissions for foreign Sultans and the like, becomes a customer Finch has no idea how her simple spinster's life will change. Suddenly, mystery, intrigue and a passionate romance are on the horizon.
More and More
is a quirky, passionate historical romance which Cameron fans should adore. The dialogue is crisp and witty, and the passion is fiery. The addition of a meddlesome ghost is quite funny, as are some of the predicaments in which Fitch finds herself. A charming and funny romance which fans should love.
---
The Wedding Night by Linda Needham
Avon, April, 1999.
Paperback, 372 pages.
ISBN: 038079635X.
Ordering information:
Amazon.com.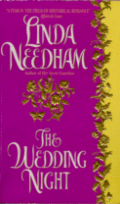 In 1858 England, Mairey Faelyn has followed in the footsteps of her father, a noted Celtic historian and scholar. Mairey is looking for an ancient Celtic ornament known as the Willowknot, which is said to have a map leading to a large silver mine. Mairey wants to find the Willowknot to spare her beloved village from the horrors of strip mining. But she doesn't reckon with Lord Jackson Rushmore, a leading industrialist who is also looking for the Willowknot -- to make more profits. Forced to work for Rushford, Mairey vows to secretly work against him. But when she falls in love with the handsome Lord, she is faced with a terrible dilemma: save her village and destroy her love or find happiness and betray her family and neighbors.
The Wedding Night
is wonderful blend of romance and mystery. The ancient Celtic lore of the Willowknot adds spice to the story, and Mairey is an intelligent heroine who is sure to amuse. Lord Rushmore seems a bit overbearing at first, but as the story unfolds his attitude is more understandable, and he makes for a compelling and passionate hero. Funniest moment: when the reserved Rushford is overwhelmed by Mairey's adorably impish three younger sisters. Highly Recommended.
---
Click here for Romance Reviews Page One
Return to Book Reviews Index
---
More from Writers Write