Romance Book Reviews
Page Two of Two
The Heir by Johanna Lindsey
Morrow, April, 2000.
Hardcover, 384 pages.
ISBN: 038097536X.
Ordering information:
Amazon.com.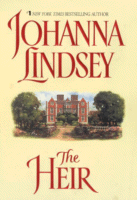 Duncan McTavish has always know that he will someday be the laird of his Highland clan after his grandfather dies. But Duncan is also the heir to his English grandfather, a wealthy Marquis. Having been raised among the Scots, he is a bit wary of England, especially of the cutthroat social world of the ton. But Duncan agrees to go to England to meet his English grandfather who has arranged a marriage for him, to the beautiful but spiteful Ophelia who wants nothing to do with a Scottish barbarian. Duncan has much more in common with the English girl, Sabrina Lambert; she makes him laugh, for one thing. Sabrina feels much more than friendship for Duncan, but she feels she can't compete with the gorgeous Ophelia, especially when Ophelia spreads vicious rumors about anyone who gets in her way. When passion finally flares between Sabrina and Duncan, Ophelia is still in their way, as is an old family scandal that may make Sabrina unable to marry at all.
The Heir
is another wonderful tale from the multi-talented Johanna Lindsey. Sabrina is an especially appealing heroine who has always relied on her ability to make people laugh and to be a good friend rather than upon her looks, as has the scandal-mongering Ophelia. Lindsey has the gift of writing stories that transport the reader to another time and place. Her settings are vivid and her characters are quite compelling. From the continually quarreling grandfathers to the handsome, hard-headed Scot Duncan, these are all characters you'll love reading about. Highly recommended.
---
Lady of Valor by Tina St. John
Ivy Books, April, 2000.
Paperback, 312 pages.
ISBN: 0449004244.
Ordering information:
Amazon.com.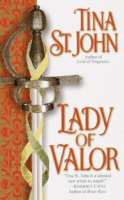 In 1192, the Crusades under King Richard are raging in the Holy Land. When the despicable Sir Garrett of Fallonmour is killed by a ten year old girl he was about to rape, the King sends Sir Cabal, better known as Blackheart, to Fallonmour to guard the estate -- and Garrett's widow -- until he decides what to do with the property. Sir Garrett's brother is a supporter of King Richard's ever-plotting younger brother, and it is crucial that the vast estate not fall into his hands. Sir Cabal, bitter and weary from the long years of battle and killing, sets off for England on his new duty. He is surprised by Sir Garrett's widow Emmalyn: she is beautiful and has managed the estate brilliantly in her despised husband's absence. Cabal is overcome by her beauty and spirit, but his sworn duty is to protect her and the land. Lady Emmalyn is terrified of what will happen to her people if her brother in law takes over her land -- but is the brooding, handsome Cabal any better alternative?
Medieval England is the setting for this passionate and sensitive tale of a knight and a widow who long for love to heal their damaged hearts. Tina St. John does an excellent job of bringing medieval days to life, and her heroine, Emmalyn, is a treasure. Strong, yet hemmed in by the strictures of her time, she is an inspiring heroine who longs for love -- but on her own terms. Sir Cabal is a powerful but noble knight whose anguish over his past might keep him from finding his heart's desire. This is a passionate and touching romance which should thrill lovers of historical romance.
---
Romance Reviews
Page One
|
Page Two
Return to Book Reviews Index
---
More from Writers Write