Romance Book Reviews
Page Two of Two
The Runaway Princess by Christina Dodd
Avon, March, 1999.
Paperback, 376 pages.
ISBN: 0380802929.
Ordering information:
Amazon.com.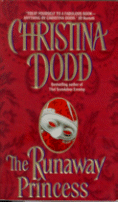 Miss Evangeline Scoffield of East Little Teignmouth, Cornwall, grew up in an orphanage, never knowing her parents. Luckily she was rescued from the orphanage by a wealthy and eccentric woman named Leona. When Leona dies and leaves Evangeline 6,000 pounds, Evangeline travels to Europe as a mystery woman, determined to see life before she settles down to a dreary life in England. While staying at a posh resort she meets the handsome Prince Danior of Baminia who insists that she is his long-lost fiancée, Princess Ethelinda and that they must depart immediately for his country and their wedding which will save both Baminia and her country Serephina. Evangeline insists she is not the runaway Princess Ethelinda, but the prince won't listen, and promptly kidnaps her. On the journey home, they will face dangers intrigue, romance and mystery. Is Evangeline really a princess? If not, then who is?
Prince Danior is a stubborn, handsome and compelling hero, and Evangeline is a funny and warm heroine with plenty of spunk. The storyline is unusual and fresh, and the chemistry between the leads is fiery.
The Runaway Princess
is classic Christina Dodd: fast-paced, passionate and enormously entertaining.
---
Taming Rafe by Suzanne Enoch
Avon, April, 1999.
Paperback, 373 pages.
ISBN: 0380798867.
Ordering information:
Amazon.com.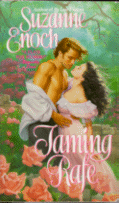 Handsome roué Rafe Bancroft wants nothing but to roam the world, looking for thrills. So when he wins the deed to Forton Hall in a card game, he is overjoyed. He can sell his new estate and be off on another journey. But when he gets to Forton Hall, he finds it is occupied by the lovely Felicity Harrington and her younger sister. Dismayed at the dreadful condition of his new estate (the roof is caving in and it's a mess) and at the unchaperoned women living there, he moves into the barn while he tries to figure out what to do. When he and Felicity sense the growing attraction between them, Rafe is in a real spot. Can the love of a simple English girl reform a confirmed scoundrel?
Suzanne Enoch has penned a marvelous, sexy and funny Regency tale with her latest book. Raphael Michelangelo Bancroft is a marvelous hero, and it's great fun watching him try to be true to his idea of what a rake should act like -- while the good guy underneath keeps peeking out. Another treasure from Suzanne Enoch.
---
Click here for Romance Reviews Page One
Return to Book Reviews Index
---
More from Writers Write
---