Romance Book Reviews
The Challenge by Edith Layton
HarperCollins, March, 2000.
Paperback, 390 pages.
ISBN: 0061014338.
Ordering information:
Amazon.com.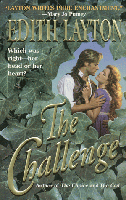 Years ago, Lucy Stone had allowed herself to follow her heart, with disastrous results. She followed her young husband to the new colony of America, and when he died she was left a penniless widow and mother. Lucy manages to get a job at a family inn, and when a handsome and wealthy English gentleman shows up, her longing to return to England intensifies. But she refuses to give into passion with an irresponsible man, and repeat the same mistake she made before. When Lucy receives a letter from her brother in law, the Earl, saying that he would like to meet her son, Lucy is ecstatic and returns to England. But can she forget the handsome gentleman who promises he will change his reckless ways just for her?
The Challenge
is a heartfelt tale about second chances in life. Lucy Stone made a mistake that she feels she will pay for until the day she dies. But fate gives her a second chance, and her story will resonate with anyone who has regrets about her past. Lord Wycoff is an engaging hero who must work hard to overcome his womanizing reputation to gain true love, and his chemistry with Lucy is sizzling. Funny and touching,
The Challenge
is a winner.
---
The Count by Helena Dela
HarperCollins, March, 2000.
Paperback, 241 pages.
ISBN: 0061098841.
Ordering information:
Amazon.com.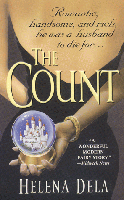 Ella is a young widow in modern day London who ekes out a living restoring books at a library. Totally traumatized by the death of her husband eighteen months ago from cancer, she learns from her boss, Dr. Schuber, that the library is about to close. But Dr. Schuber has another option for Ella: to meet and marry the son of an old friend. Rudi von Drachenfels, an Austrian count who needs a wife -- and fast. The marriage will be purely a business arrangement; the wife must produce an heir and the spouses can go their separate ways. Wealthy and handsome, he seems like the perfect husband. But the von Drachenfels family is subject to a terrible curse: no von Drachenfels wife has lived more than two days after the birth of her first child, which is always a boy. Against everyone's advice, Ella takes Rudi up on his offer and becomes the Grafin von Drachenfels. She ends up spending most of her time in a drafty Austrian castle -- with the ghosts of all the von Drachenfels wives. But Ella loves her new husband, and has no intention of dying. Can she find a way to win Rudi's true love -- and stay alive?
The Count
is an absolutely marvelous fairy tale romance. Helana Dela's writing is crisp, funny and quite moving. Ella is a delightful heroine -- life has treated her quite shabbily so far, but she never quite gave up. And it is great fun to watch Rudi change from the cold, doomed Count into a passionate and caring husband. The ghosts are a welcome addition and give spice to this incredibly entertaining story. Highly recommended.
---
Rules of Surrender by Christina Dodd
Avon, March, 2000.
Paperback, 360 pages.
ISBN: 0380811979.
Ordering information:
Amazon.com.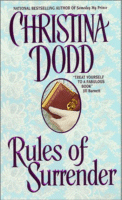 In 1840 England, a young lady in reduced circumstances had very few ways to earn a living. Having fallen upon hard times, three young women of excellent background formed The Distinguished Academy of Governesses to teach young men and women the social graces before they enter society. Lady Charlotte Dalrumple accepts a governess position with the beautiful Adorna (from
That Scandalous Evening
). Adorna is a widow and grandmother now, and her two grandchildren have lived the first part of their lives in Arabia. Naturally, they are in great need of a governess to teach them to behave like proper English children. But what Adorna fails to tell Charlotte is that the children's father, Lord Wynter Ruskin, is also in dire need of a civilizing influence. His many years abroad have given him a preference for plain speaking and a dislike for propriety, both absolute no-nos in polite society. Charlotte sets out to tame the Earl, while Wynter decides to acquire Charlotte as his docile, submissive wife. They are in for a battle royal -- and an overwhelming passion for each other.
Christina Dodd gives us her take on
The King and I
in this sexy, intelligent historical romance. Lady Charlotte, the governess, has had a difficult time of things and has learned to keep all of her feelings bottled up inside herself. She always does the right thing -- until she meets the handsome and passionate Wynter, who learned from his adoptive father (a desert sheik) that
real
men don't fall in love. Boy, is he in for a surprise. This one is hot, hot, hot -- don't miss it. Highly recommended.
---
Return to Book Reviews Index
---
More from Writers Write