Romance Book Reviews
Christmas Knight by Christina Skye
Avon, October 1998.
Paperback, 385 pages.
ISBN: 0380800225.
Ordering information:
Amazon.com.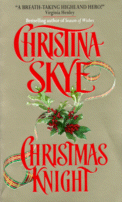 Hope O'Hara needs a miracle, and fast. She's spent every last dime of her small inheritance purchasing and renovating the lovely Glenbrae house in the Scottish Highlands, with the hope of turning it into a first-rate inn. But funds are running out quickly and there is still much work to be done to complete the renovations and attract paying guests. Enter the mysterious and magical Wishwell sisters, who latch onto a fierce and honorable Knight and hurl him 700 years into the future to meet Hope. Of course Hope doesn't believe for a minute that this handsome stranger is really from the 14th century, and Ronin MacCloud is thoroughly confused and alarmed at this strange new world of televisions, women's rights and automobiles. But he is an adaptable fellow and, after all, Hope is stunningly beautiful. But it appears that Ronin must return to his own time, and someone seems determined to injure or kill Hope and destroy Glenbrae House. It will take a medieval knight's honor and courage, and a little help from the Draycott Abbey ghost to save Glenbrae House and create a match made in Heaven.
The fabulously talented Christina Skye has done it again with this enchanting entry into the Draycott Abbey series. Ronin MacCloud is a complex and intriguing character; his interactions with the modern world are hilarious to watch, and Hope is a strong and endearing heroine. But the scene stealers in this charming romance are the Wishwell sisters, whose well-intentioned meddling is at the root of the story. If you haven't yet discovered Christina Skye, you have a wonderful treat in store for you. Highly Recommended.
---
Some Enchanted Evening by Alice Alfonsi
Jove, October 1998.
Paperback, 343 pages.
ISBN: 0515123706.
Ordering information:
Amazon.com.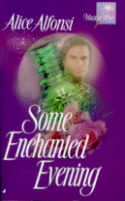 Practical, sensible Mary Jane Magorski has always worked hard and played very little. So it seems especially unfair when she loses her job and her apartment in the same day -- her birthday. The only bright spot is the lovely green antique bottle her co-worker gave her. But even that is destroyed when she hurls the glass at an obnoxious creep who tries to attack her at her hotel. When the bottle hits the wall, a billowing green smoke fills the room. When it clears, there is an 18th century pirate, complete with broadsword and earring in the room, who immediately comes to her rescue. Convinced that she is losing her mind, Mary Jane tries to think of a reasonable explanation. But the handsome pirate, Sinjin Avery, assures her that he is very real and that he is hers to command for two weeks, until he must return into the bottle which has been his prison since the evil jinn Asaf traded places with him with the help of a greedy slave girl. As Sinjin begins to fulfill her wishes, her troubles multiply. To make matters worse, Asaf is searching for them in order to regain his magical powers and send Sinjin to the pit of Hell. As Sinjin and Mary Jane begin to fall in love, the situation looks hopeless -- unless the pair can find a way to break the enchantment and free Sinjin from the curse of the jinn.
The pirate Sinjin Avery is a spellbinding hero: handsome, strong and with a devilish sense of humor. He is a perfect foil for the repressed bookworm Mary Jane, whose hard life has prevented her from realizing her dreams. The talented Alice Alfonsi has created a wonderful story full of magic, humor, adventure and romance which will thrill romance readers who enjoy a touch of the supernatural with their stories.
---
That Scandalous Evening by Christina Dodd
Avon, September 1998.
Paperback, 377 pages.
ISBN: 0380790912.
Ordering information:
Amazon.com.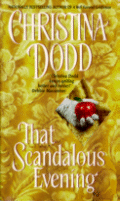 Ten years ago, Miss Jane Higginbotham created the scandal of the year during her London Season. Infatuated with the handsome Ransom Quincy, the Marquess of Blackburn, she sculpts him in the classic Greek style -- wearing nothing but a tiny figleaf (she simply guessed at the correct proportions of the male anatomy). When the ton sees the statue, Jane is ruined and banished to the country and Quincy is furious at being made a laughingstock. Now Jane, hoping that the terrible scandal has been forgotten, is back in London to chaperone her incredibly beautiful niece during her season. On the trail of a French spy, Blackburn has returned to London and, as part of his role as a jaded aristocrat, attends all the best balls and parties. When the two meet again, sparks fly and Blackburn decides to pay court to Jane to cover up his spying for the English crown. When circumstantial evidence turns up which points to Jane as being the French spy, Blackburn is appalled, but determined to do his duty -- if only his reawakened passion for Jane doesn't get in the way.
Popular author Christina Dodd is known for her unusual twists on the usual Regency romance, and her latest novel is no exception. Jane, the innocent young debutante whose skills as an artist bring about the total humiliation of the ton's most dashing rake, is a wonderfully unique character and her clashes with the proud Blackburn are as passionate as they are funny. The plot is original, the repartée is witty and the love scenes are steamy: Regency fans must not miss this book.
---
Return to Book Reviews Index
---
More from Writers Write