Romance Book Reviews
The Internet Writing Journal
Page Two of Two
A Scoundrel's Kiss by Margaret Moore
Avon, March 1999
Paperback, 376 pages.
ISBN: 038080266X.
Ordering information:
Amazon.com.
In post-Cromwell England, King Charles is on the throne and the moral decay of the era is evident in the massive amount of philandering going on at Court, led by the King who keeps several mistresses -- much to the chagrin of his long-suffering wife. Lady Arabella Martin has lived in the country all her life, until the death of her father, who was a strict Puritan. She is adopted as the ward of their neighbor, Lord Barrsettshire, who announces that he is leaving his fortune to Arabella and her future husband, disinheriting (except for the title) his son, the handsome, philandering wastrel Lord Neville Farrington. Neville, furious with his father, decides to prove that Arabella is not pure or worthy of his father's trust and sets out to ruin her. But he'll have competition. Put on the marriage mart, Arabella has drawn the interest of the King himself, who is looking for a new mistress.
A Scoundrel's Kiss
is a refreshingly different style of historical romance from those used to standard Regency tales. The Restoration period was an interesting choice by Ms. Moore -- the scandalous goings on and rampant hypocrisy in society make for titillating reading. There are more "dark" characters in the novel, which provide complexity to the tale, and give some wonderful suspense to the story. The chemistry between Arabella and Neville is fiery, and Neville's friends provide some great comic relief. Altogether, a wonderful look at the court of King Charles, and a satisfying and thrilling romance.
---
The White Sun by Stobie Piel
Love Spell, Jan., 1999.
Paperback, 392 pages.
ISBN: 0505522926.
Ordering information:
Amazon.com.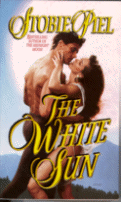 Arnoth of Valenwood is an Ellowan prince. The Ellowan are an elflike race renowned for their beautiful music and sensual ways. Arnoth, a hardened warrior, is on Valenwood when he is captured by the Ellowan's arch enemy, the Tseirs, a race of clones bent on conquering the galaxy. When a Tseir commander with beautiful eyes is set to guard him, Arnoth immediately knows she is not who she seems to be. Sierra of Nirvahda has gone undercover as a Tseir to help her homeworld stop the hated race of clones, who feel no compassion or love for anyone. When she meets Arnoth, she sacrifices her mission to save him from death. But the two must overcome an entire army, and her irate father in order to be together. When treachery threatens to destroy all of Nirvahda, only Sierra and her newfound love have a chance to set things right -- or die trying.
The White Sun
is full of action, adventure, passion and romance. Sierra is a modern woman who is used to taking action -- not waiting around for some man to take care of things. Her meetings with the sensual Ellowan prince cause sparks to fly as they are forced into intimacy while on the run together. Those who like some adventure with their romance will love this book.
---
Click here for Romance Reviews Page One
Return to Book Reviews Index