Romance Book Reviews
Page One of Two
The Forbidden Lord by Sabrina Jeffries
Avon, Feb., 1999.
Paperback, 374 pages.
ISBN: 0380797488.
Ordering information:
Amazon.com.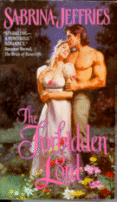 In 1819 England, Emily Fairchild has led a fairly sheltered life as the daughter of a strict country preacher. When a mix-up at a local Ball lands her alone in a carriage with the notorious rake Lord Blackmore, Emily gets a glimpse of a life far different from her quiet existence with one scandalous kiss. When Emily's good friend, Lady Sophie blots her copybook by trying to elope with one of her suitors during her deb season, Lady Sophie's tyrannical father and her meddling but kindly aunt force Emily to masquerade as Lady Emma Campbell during the rest of the Season to find out who Lady Sophie's unwanted suitor is. When the spurious Lady Emma meets Lord Blackmore at a party, sparks fly. And, unfortunately, Lord Blackmore seems intent on exposing her masquerade, which would have disastrous consequences for Emily -- the the secret about which she is being blackmailed by Sophie's father would be revealed. Her very life may depend on convincing Lord Blackmore that she is no country miss -- but the daring, provocative Lady Emma. But a successful masquerade may also have some dangerous (and scandalous!) repercussions.
Sabrina Jeffries has created a fresh and original storyline with
The Forbidden Lord
. The charismatic Lord Blackmore is a delight to watch as he fences with the spurious Lady Emma. The passion sizzles and the repartee is witty. This is another winner from Jeffries.
---
Scandals by Penelope Neri
Leisure Books, Jan., 1999.
Paperback, 391 pages.
ISBN: 0843944706.
Ordering information:
Amazon.com.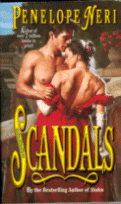 One moment unchaperoned in the stables with a handsome stable boy, and Victoria Hawthorne's reputation is ruined. Nevertheless, her father packs her off to London for a Season, hoping that some eligible bachelor will offer for her. Steede Warring, the eighth earl of Blackstone has his own scandal in his past; everyone thinks he murdered his first wife. When Warring sees Victoria, he immediately decides she is the wife for him, and the mother for his beautiful little daughter, who hasn't spoken a word since the death of her mother and baby brother in a fire. Victoria goes along with the engagement, all the while planning to elope with her low-born, smooth-talking suitor from the country. But she doesn't reckon with her new fiancé, and ends up eloping with him instead. Now she must try to forget her old love, and make a home with the sad little girl and her handsome, but somewhat frightening new husband. When someone starts making attempts on her life, Victoria must find out once and for all if her new husband is a murderer -- or the love of her life.
Popular author Penelope Neri (
See
,
Stolen
) triumphs again with her latest novel. Victoria is a believable character with her youthful crush on a charming con artist. As she matures, her attitude changes as she must face more adult problems, such as being a good mother and learning to make herself vulnerable enough to trust her husband. Neri is a genius at creating characters that readers will love, and for spinning a magical tale that will leave readers longing for more.
---
Click here for Romance Reviews Page Two
Return to Book Reviews Index
---
More from Writers Write