Romance Book Reviews
The Internet Writing Journal
Page One of Two
Sea Swept by Nora Roberts
Jove, Jan., 1998.
Paperback, 342 pages.
ISBN: 0515121843.
Ordering information:
Amazon.com.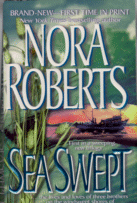 Playboy and champion boat racer Cameron Quinn is enjoying life in the fleshpots of Europe. Plenty of speed, excitement and feminine companionship combine for a fast-paced, exciting lifestyle -- until the evening a fax arrives at his hotel with a desperate plea for him to return to America. His beloved father is dying and his two brothers need him to return immediately. When he arrives, his life becomes quickly overcrowded with complications. Bound by a deathbed promise to their father, Cameron and his two brothers (who were all adopted by Ray Quinn and his wife) promise to raise their father's latest stray -- a young boy named Seth who is fleeing an abusive home. A man of his word, Cameron sets aside his jetset lifestyle for the time being to move into the house with his two brothers to share responsibility of raising Seth. But Social Services is not at all sure that Seth should be raised by three bachelors -- and neither is Seth. To make matters even worse, Cameron is awestruck by Anna, the social worker sent to report on the guardianship situation; she's gorgeous and smart. When the insurance company tries to claim that Cameron's father committed suicide and the town begins to gossip that Seth was really Ray's illegitimate son Cameron has his work cut out for him: trying to save his dad's reputation and winning the hand of the beautiful social worker who could help him make this house a true home for the four adopted brothers.
In this first book of an exciting new trilogy, Nora Roberts creates fascinating new characters with the Quinn brothers. The dangerous Cameron, the sophisticated Phillip and the outdoorsy Ethan are all complex and intriguing. Roberts excels at writing believable male characters and her depictions of life with the four brothers are both moving and amusing. Anna Spinelli, the social worker, is a fresh and interesting heroine with a great tragedy in her past she has had to struggle to overcome. Her meetings with Cameron are passionate and affecting, and the Maryland coast provides a vivid background for the story. Another triumph for Roberts.
---
The Artful Heir by Martha Kirkland
Signet Regency, April, 1998.
Paperback, 224 pages.
ISBN: 0451195620.
Ordering information:
Amazon.com.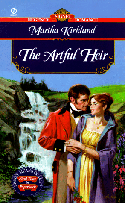 Sarah Sterling is the daughter of a famous London art restorer. When her father becomes ill, Sarah travels to Donmore Hall in his place to fulfill a contract to inventory and restore the large art collection housed at the large estate recently inherited by the new heir, Mr. Matthew Donaldson. Working hard to overcome Matthew's initial reluctance trust a woman with the precious art collection, Sarah nevertheless shows herself worthy of the job. As she begins work, however she discovers some disturbing activities at Donmore Hall. Some of the painting are fakes...and some of the real art is disappearing! Then to complicate matters, a distant relative arrives with a young woman she is determined to marry off to Matthew. Sarah quickly finds herself involved in the mystery of the art thefts as well as a romantic entanglement with her employer.
Martha Kirkland creates a lively and likeable heroine with Sarah Stirling and a compelling and unusual hero with Matthew Donaldson. A soldier who inherited a vast estate when the previous owner disinherited the rightful heir in favor of Matthew, a distant relative, the new heir is somewhat uncomfortable with the ways of polite society. The characters are well-drawn and the plot is intriguing. A fun and lighthearted read for Regency romance fans.
---
Click Here For Romance Reviews Page Two
Return to Book Reviews Index