Romance Book Reviews
Page Two of Two
The Forbidden Garden by Tracy Fobes
Sonnett, March, 2000.
Paperback, 400 pages.
ISBN: 0671041738.
Ordering information:
Amazon.com.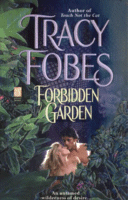 In 1860 England, Anne Sherwood lives only for her work. A widow, she resents the fact that her late husband passed off her botanical illustrations as his own work. Anne has an unusual talent; she can sense the emotions of plants and see their auras, which gives her a decided edge as an illustrator. Determined to gain the respect in academic circles that she deserves, she agrees to be the in-house illustrator for Lord Connock at Glendale Hall in Ireland. Glendale Hall is full of secrets, and the plants give off the oddest emotions she's ever felt. Her stay is complicated by Lord Connock's naturalist, the handsome and glib Michael McEvoy. It soon becomes clear that something is very wrong at Glendale Hall, and that Anne and Michael are facing what could be a deadly enemy. Can love bloom in the forbidden garden of Lord Connock?
Whenever a new Tracy Fobes book comes out, you know you're in for a treat. Paranormal romance is a difficult genre in which to write, but Fobes makes it look easy. She is one of the most inventive of the authors working in this field.
Forbidden Garden
is another fabulous addition to her growing body of work. With people like Charles Darwin and Aldous Huxley making an appearance in the storyline, a delightfully creepy setting and some wildly passionate love scenes, this one is sure to thrill even the most jaded reader. Don't miss it if you like some paranormal thrills with your romance.
---
My True Love by Karen Ranney
Avon, Feb., 2000.
Paperback, 369 pages.
ISBN: 038080591X.
Ordering information:
Amazon.com.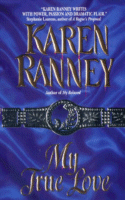 400 years after the events chronicled in
My Beloved
, the beautiful castle of Langlinais is still standing, and seems to embody the spirits of Juliana and Sebastian whose undying love still permeates the grounds. Anne, the daughter of the Laird of Dunniwerth Castle in Scotland has seen the owner of Langlinais, Stephen, in her dreams for all of her life. Mysteriously drawn to the man she knows is her destiny, Anne sets out on a journey to find him. She is rescued by Stephen, the current Earl, who lives by the ruins of Langlinais Castle and rules Harrington Court. Anne and her entourage are invited to stay at Harrington Court, but are soon trapped there by the Civil War in which England was embroiled, in which the Royalists and the Parliamentarians both vied to rule England. Will Stephen and Anne find a love as lasting and true as Sebastian and Juliana did? Or will a civil war and some long-buried secrets keep them apart forever?
Karen Ranney has a unique style which is eminently suited to historical romances. Her writing is lyrical and moving, with passion simmering in every sentence.
My True Love
has less action than
My Beloved
(which told the adventurous story of Sebastian and Julianna) but it has a wonderful, almost ghostly quality which renders the characters larger than life. Clear your calendar before you pick up this book; you won't want to be interrupted.
---
Romance Reviews
Page One
|
Page Two
Return to Book Reviews Index
---
More from Writers Write