Romance Book Reviews
Page One of Two
Dove's Way by Linda Francis Lee
Ivy Books, March, 2000.
Paperback, 320 pages.
ISBN: 0449002055.
Ordering information:
Amazon.com.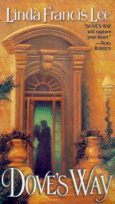 In 1891 Africa, Finnea Winslet embarks on the long journey to Boston to see the family that she has not seen since her early childhood. On the train she meets and has her life saved by another Boston native: Matthew Hawthorne. Matthew is the wealthy son of an old Boston family, but he left Boston after being involved in a scandal and accident which left his handsome face with a disfiguring scar on one side. When the two meet up again in Boston, sparks fly. But Finnea's family has an older, more settled suitor in mind, and Matthew is determined never to marry again.
Linda Francis Lee is adept at taking a flawed character and showing his struggles in a fascinating way. Finnea and Matthew are both attractive, strong people who have been damaged by life, but are determined to succeed. The Boston and African settings are integral parts of the storyline, and make for interesting reading, and the romance itself is quite moving. Linda Lee's latest is sure to please historical romance fans.
---
Enemy Within by Christiane Heggan
Mira, March, 2000.
Paperback, 403 pages.
ISBN: 1551665778.
Ordering information:
Amazon.com.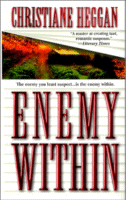 Rachel Spaulding is hit with a number of life-changing events. When her adoptive mother dies, Rachel is shocked when under the will she is left Spaulding Vineyards, the family winery. Her sister, Annie, the blood relative, is furious that she was passed over for someone who she feels is not a real Spaulding. Annie hires private investigator Gregory Shaw to find Rachel's real mother, Alyssa, who disappeared after her husband's murder thirty years ago. When Gregory finds Alyssa, the trouble starts. Alyssa is still wanted for the murder of her husband Mario, and she and Annie have some issues that must be resolved. But Alyssa's reappearance has reopened the 30 year old mystery, and a killer is ready to strike again to preserve his secret. To further complicate matters Gregory and Annie are falling in love.
Enemy Within
is a taut and engaging romantic thriller set in the lovely Napa Valley. Heggan excels at dialogue and pacing, and Annie is a character you'll root for all the way through the story. The family drama that is at the heart of the tale rings true, and Gregory Shaw is quite appealing. Don't miss this enchanting and suspense-laden romance.
---
Romance Reviews
Page One |
Page Two
Return to Book Reviews Index
---
More from Writers Write