Romance Book Reviews
The Internet Writing Journal
Page Two of Two
Rachel's Passage by Paula Reid
HarperCollins, Dec., 1998.
Paperback, 377 pages.
ISBN: 0061013625.
Ordering information:
Amazon.com.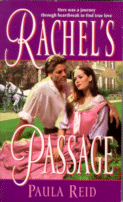 In 1806 Philadelphia, a beautiful young woman, Rachel, walks into a lawyer's office asking him to represent her in an adultery suit. He asks her to write out the story leading up to the lawsuit, and she does. The result is a fascinating tale of Rachel, a young woman who marries a wealthy, older man only because her parents want her to and because her young love has left town and hasn't returned as he promised. Rachel finds love with her brilliant and kind new husband, but tragedy strikes when her old beau shows up and her husband believes she still loves him. Torn apart by lies, Rachel is forced to marry her old beau who promptly leaves her -- again. Now a mother, Rachel must find an inner strength she is not sure she has in order to keep custody of her son and to find the true love she lost.
Rachel's Passage
is an unusual love story; we hear the story first from Rachel's point of view. Then we hear the same story told through the eyes of her first husband. With humor, passion, tragedy, and true love,
Rachel's Passage
is a unique and moving story which is enhanced by the intriguing historical details, including the concept of self-divorce, which was utilized during this time period, especially in the Western states. An engrossing tale which historical romance fans will love.
---
Saint's Temptation by Debra Dier
Leisure Books, Dec., 1998.
Paperback, 393 pages.
ISBN: 0843944595.
Ordering information:
Amazon.com.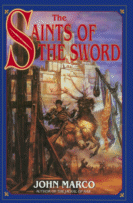 When
Devil's Honor
came out, fans longed to know the story of the other brother in the tale: Clayton Trevelyan, the Earl of Huntingdon. This long-awaited sequel (which can be read as a stand-alone) tells the story of the more angelic brother of the two Trevelyan boys, Clayton. Handsome, quiet and more scholarly than his boisterous brother, Clayton was crushed when his young love Marisa Granthan ended their engagement. Vowing never to be hurt like that again, he sets off for war and becomes a hardened soldier. When he returns to England to find a wife, the last person he wants to see is Marisa. But there she is, on his doorstep, telling him that she has overheard a plot to murder him. Marisa is terrified for his life, and heartbroken over her rash decision to end their engagement years ago. This time, she is determined not to let him get away. But Clayton stubbornly refuses to get involved, preferring to marry for convenience, not for love. What he doesn't count on is the fiery attraction between them, which hasn't dimmed over the passing years. It will be up to Marisa to save the life of the man she loves, and show him that they are meant to be together.
Saint's Temptation
was well-worth the wait. Marisa is a charming, funny and determined heroine, and Clayton is an intriguing hero whose quiet charm is sure to sweep readers off their feet. The passion is steamy and the repartée is witty. Another charmer from Debra Dier which historical romance fans will cherish.
---
Click Here For Romance Reviews Page One
Return to Book Reviews Index