Romance Book Reviews
The Internet Writing Journal
Page One of Two
Circle of the Lily by Jill Jones
St. Martin's Press, Nov., 1998.
Paperback, 320 pages.
ISBN: 0312968132.
Ordering information:
Amazon.com.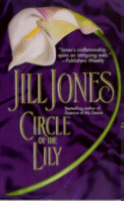 Englishwoman Claire St. John has always lived on the grounds of the ancient Hartford Hall, where 100 years ago a mysterious death occurred. When a violent thunderstorm uproots an ancient tree, Claire finds a skeleton with a strange gold ring underneath. Could it be the remains of Eloise Beauchamp who disappeared in 1899 from her home, Hartford Hall? Claire decides to look into Eloise's death. At the same time, Michael Townsend, an American, moves into her guest house. Michael is on a quest to find his long-lost mother. Instantly attracted to one another, Michael and Claire's quests become intertwined as they both become involved with a mysterious group known only as the Circle of the Lily, whose powerful leader is seeking to resurrect a long-dead evil power. With the help of her own psychic talents and a local white witch, the couple will face great danger and a terrible threat to their relationship. But will it be enough to thwart the plans of the Circle of the Lily?
Jill Jones is a unique and wonderful talent writing in the field of paranormal romance. With the
Circle of the Lily
she cements that reputation. The modern day romance set against the backdrop of an ancient magical group seeking to revive an ancient evil is irresistible. With modern day witches, evil spells, psychic phenomena and a palpable sense of evil, the storyline is exciting and engrossing. But it is the wonderful attraction between the two lead characters which really makes the story come alive. The tormented Michael, who is searching for the mother who abandoned him, and the steady and calm Claire, who sees the good in everyone around her, are a wonderful pair whose passion for one another sizzles throughout the tale. A must-read for lovers of magic and mystery with their romances.
---
Love Once & Forever by Flora Speer
Love Spell, Jan., 1999.
Paperback, 390 pages.
ISBN: 0505522918.
Ordering information:
Amazon.com.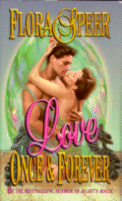 Laura Morrison has just broken her engagement to a rising politician, much to her mother's dismay. While walking on the beach after the breakup, she spies a beautiful crystal egg with a golden center. Holding it up to the sun, she is caught by powerful forces and sent back in time, along with three other travelers from different time periods in earth's history. Kentir, the handsome and magnetic leader of the scientific project which brought Laura back in time, is one of a small group of scientists who are seeking to avert a major catastrophe which could destroy Earth's future unless a solution is found in time. Laura reluctantly at first, agrees to help, but the other travelers are not so agreeable. In fact, one, a vicious young woman from the 21st century refuses to do anything without a substantial profit being in it for her. As Laura learns more about this ancient and advanced culture, which may in fact be the mythical Atlantis, she is falling for Kentir. But he has no time for romance -- only for his duty. Can the pair find a way to save the Earth's future -- and be together? Or will they be forever separated in time?
Flora Speer has created an interesting premise with her latest novel. The paradise on Earth, before a major disaster, which heralded the beginning of a major ice age, provides a beautiful backdrop for this tale of lovers separated in time who must overcome terrible odds if they are to be together. Readers who enjoy time travel romances will love this tale.
---
Click Here For Romance Reviews Page Two
Return to Book Reviews Index