Romance Book Reviews
Page Two of Two
The Proposition by Judith Ivory
Avon, Dec., 1999.
Paperback, 374 pages.
ISBN: 0380802600.
Ordering information:
Amazon.com.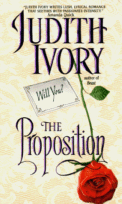 In Victorian London, Lady Edwina Henrietta Bollash teaches elocution to young ladies who are in need of a bit of polishing. She has had to make her way after her father, the Marquess of Sissingly, died unexpectedly and her despicable cousin inherited that title, all the money and the dukedom, to boot. Xavier, now the Duke of Arles, promptly cast Edwina adrift without a penny; all she now owns is her father's townhome in London and her elocution business which pays her modest bills. When the Lamont brothers offer her a generous fee to turn London rat catcher Mick Tremore into a gentleman in six weeks (in time to pass him off as an aristocrat at Xavier's annual ball for a wager), she accepts. Mick takes to his language lessons with astonishing speed, but it's his dazzling sensuality and forward manner that have Edwina's heart aflutter. But how can she entertain the idea of love with a rat catcher -- even a devastatingly handsome, kind and entertaining one?
The Proposition
will sweep readers off their feet with its bold sensuality, heartfelt emotion and genuine good humor. Judith Ivory has taken the story of Pygmalion (from which came the film
My Fair Lady
) and given it a delightful twist. The writing is clear, clean and very sexy. With a very unusual heroine (she's six feet tall and not terribly pretty with great legs) and one of the most charismatic heroes to come along in quite awhile, this is one book you'll simply devour. Highly Recommended.
---
A Rogue's Proposal by Stephanie Laurens
Avon, Oct., 1999.
Paperback, 406 pages.
ISBN: 0380805693.
Ordering information:
Amazon.com.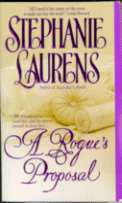 The Bar Cynster is the informal name given in the family to the six, extremely handsome cousins. The Bar Cynster members are known for their way with the ladies and their strong aversion to being tied down. But three members have already succumbed to matrimony (
See
,
Devil's Bride
,
A Rake's Vow
and
Scandal's Bride
), and Harry "Demon" Cynster is determined not to be the next victim. So he leaves the whirl of parties of London's ton, and heads off to his stables at Newmarket. But there he finds Felicity Pargeter, ward of his next door neighbor, masquerading as one of his stable boys. Intrigued, he corners her and demands an explanation. Felicity (or Flick as she is called) is investigating a race-fixing syndicate which has ensnared her ward's son. Demon offers to help, and the two join forces. But Demon soon finds that, although Felicity is young, she is far from passive, and that if he wants a wife (which to his great distress he finds that he does), he'll have to turn over his heart with no strings attached -- or the deal is off.
This is the fourth book in Stephanie Laurens' wildly popular Bar Cynster series. With the passion that is her trademark and a lively heroine, Laurens builds a story which is both sigh-out-loud romantic and quite entertaining. One can't help but smile as yet another handsome and powerful Cynster man throws away all his cynical ideas about love and walks down the aisle with the woman he adores. We can hardly wait to read about Gabriel and Lucifer's stories.
---
Romance Reviews
Page One
|
Page Two
Return to Book Reviews Index
---
More from Writers Write
---