Romance Book Reviews
The Internet Writing Journal
Page One of Two
Devil's Bride by Stephanie Laurens
Avon, March, 1998.
Paperback, 400 pages.
ISBN: 038079456X.
Ordering information:
Amazon.com.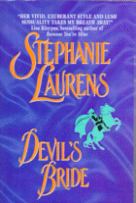 Sylvester "Devil" Cynster, Duke of St. Ives earned his nickname at an early age. As one of the brave, daring and irresistible Cynster cousins, the Duke's exploits on the battlefield and in the bedrooms of Regency London's ton's finest ladies earned him the sobriquet "Devil". Interested primarily in the chase, the Cynster men are wary of marriage and avoid it like the plague. So, it is the greatest surprise when the Duke announces that he will marry governess Honoria Wetherby after being caught in a compromising position with her; because of a storm, they are both stranded all night in a woodsman's lodge with Devil's wounded and dying cousin. There is only one problem; Honoria wants no part of marriage and is instead insistent upon following in the footsteps of Lady Stanhope and embarking for Africa and Egypt in search of adventure. But Honoria is fated to find adventure on her own doorstep. It appears that the death of Devil's cousin Tolly was no accident -- and that the killer is now stalking Devil. As Honoria and Devil stalk a murderer and their passionate attraction grows, Honoria must choose between a life of freedom and adventure alone or with the tyrannical and enigmatic Devil.
With
Devil's Bride
, the first in a series of books about the dashing Cynster cousins, Stephanie Laurens fulfills the promise of greatness she showed in
Captain Jack's Woman
. The exploits of the fascinating Devil Cynster and the headstrong, intelligent and passionate Honoria Wetherby include adventures, steamy passion and a search for a ruthless killer.
Devil's Bride
is an irresisitible beginning to what is sure to be a classic romance series.
---
A Magical Christmas by Heather Graham
Topaz, Nov., 1997.
Paperback, 336 pages.
ISBN: 0451407962.
Ordering information:
Amazon.com.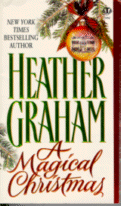 On Christmas Eve in 1862, at the Oak Ridge Plantation in Virginia , 5 young confederate officers are sentenced to hang by Union Brigadier General George Custer. The young captain who had parted from his wife in anger wished only to see her one last time before he died. His wish was granted in a most mysterious manner which would have effects on another family over 100 years later. In present day Florida, Jon and Julie's marriage is falling apart at light speed and their children are in trouble. In a last ditch effort to save their marriage they decide to spend one last Christmas together with the children at an for inn called the Oak River Plantation in Virginia which features a Civil War-era Christmas. Squabbling all the way, the family makes the somewhat arduous trip to find an inn that looks as if it exists in another time and place -- over 100 years ago. As soon as they arrive strange things begin to happen. There is something peculiar about their hosts, the Wainscotts. They are never seen together and are always in character with their Civil War costumes and polite manners. Their love for each other is obvious, but an unknown tragedy seems to hang over the couple. As they get to know the Wainscotts and Christmas Eve approaches, this modern family will have to confront their problems to find the true meaning of love -- and family.
Heather Graham has penned a magical fable of hope and love found in the midst of a modern, cynical world which will resonate with readers. The characters ring true and the problems faced by the teenagers are realistic and timely. Heartfelt and hopeful,
A Magical Christmas
is a story that the whole family will treasure.
---
Click here For Romance Reviews Page Two
Return to Book Reviews Index