Romance Book Reviews
The Internet Writing Journal
A Kiss Before Dawn by Kimberly Logan
Avon, December, 2005
Paperback, 375 pages
ISBN: 0060792469
Subgenre: Historical
Ordering information:
Amazon.com
In 1827 England, the ton is abuzz about the latest daring robbery by the Oxfordshire Thief, who just made off with several thousands pounds worth of jewelry during the middle of Lord and Lady Fulberry's chic dinner party. The Earl Tristan heads to London to hire his protégé, Peter Quick, who is like a son to him. Peter was rescued from the streets by the Earl and is now a respected Bow Street Runner. Peter agrees to go to the country with the Earl to find the thief. What neither man knows is that the infamous thief is Tristan's sister Lady Emily who is only stealing because she is being blackmailed over information that -- if it ever came to light -- could ruin her beloved brother Tristan and his wife Deirdre (
See
,
A Kiss in the Dark
). Peter and Emily have a history: he jilted her years ago when he realized that they had no future because of the difference in their stations in life, but the feelings between them still run deep. When Emily finds out that the brilliant and persistent Peter is there to find the thief, she is terrified. Still, she is determined to keep the blackmailer quiet, while trying to keep Peter from finding out the truth.
Kimberly Logan is a fresh new voice in the romance world.
A Kiss Before Dawn
brings back some characters from her first book,
A Kiss in the Dark
, but the book reads equally well as a stand-alone. The mystery/thriller elements are quite interesting, and the romance is heartfelt and passionate in this very entertaining Regency tale.
---
Red Hot Santa by Cherry Adair, Leanne Banks, Pamela Britton and Kelsey Roberts
Ballantine, November, 2005
Paperback, 325 pages
ISBN 0345483499
Subgenre: Contemporary
Ordering information:
Amazon.com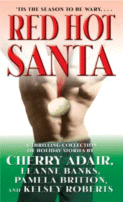 Red Hot Santa
is unlike any holiday romance anthology you've ever read. The cover leads one to think that the story is some kind of farce involving a Chippendale dancer dressed as Santa who appears on the heroine's hearth after shimmying down the chimney for some holiday cheer. But the stories inside are anything but farcical. In fact, this collection of suspense tales by Cherry Adair, Leanne Banks, Pamela Britton and Kelsey Roberts is like a breath of thrilling, cold fresh air. The four stories are loosely connected in that they all involve a mysterious Agency run by a woman who sends operatives to help those who need protecting. And these four women need protecting: from everything from serial killers to white slavers.
In the suspenseful "Snowball's Chance" by Cherry Adair, Kendall Metcalf is trying to re-start her life in Montana as a party planner after she was nearly murdered by a serial killer. But the killer escapes from prison and is heading Kendall's way to finish what he started. Joe Zorn is sent to keep Kendall safe, but the killer is smart and he's determined to torture Kendall before he finally kills her. In "Santa Slave" by Leanne Banks, Agent Rick Santana is hired to protect Hilary Winfree when she goes undercover to find her best friend who accepted a job abroad teaching manners only to find out that her employers are really white slavers. In the imaginative tale "Big Bad Santa" veterinarian Kaitlyn Logan invents a tracking chip for birds that has intelligence uses and has drawn the attention of a terrorist group. When she's attacked, Chance Owens shows up on his Harley-Davidson to rescue her. But how does she know if he's really one of the good guys? In "Killer Christmas" by Kelsey Roberts someone is killing the department stores santas. Department store CEO Meghan Beckham is having a terrible time: it looks like there's a serial killer loose in her the upscale Palm Beach department store. At first she's offended when her mentor hires the handsome and infuriating Jack Palmer to protect her, but it soon becomes clear that someone really does want Meghan dead.
The four stories in this anthology are all excellent: there's not a weak one in the bunch. The stories all combine fully-realized characters, thrills, danger and passion, which is remarkable considering that these are novellas, not full-length novels. Cherry Adair is the best-known suspense author in the group, but Leanne Banks, Pamela Britton and Kelsey Roberts all hold their own in this compulsively readable, delicious anthology.
---
Return to Book Reviews Index