Romance Book Reviews
Page One of Two
The MacGregor Grooms by Nora Roberts
Silhouette, November 1998.
Paperback, 381 pages.
ISBN: 0373483694.
Ordering information:
Amazon.com.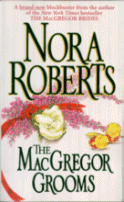 The irrepressible, irascible and lovable Daniel MacGregor is back. Basking in his success at marrying off his granddaughters (
See
, the delightful
The MacGregor Brides
) the wily MacGregor has his sites set on marrying off his three handsome grandsons: D.C., Duncan and Ian. Unlike the MacGregor brides, the potential grooms are well-aware of their grandfather's schemes to marry them all off, one by one, and believe themselves fully capable of avoiding the tender trap of matrimony. Boy are they wrong! No one is a match for the wily MacGregor, who truly knows what's best for his progeny. There are three couples whose stories are told: D.C., the talented and passionate painter, and Layna, the ice-princess heiress to a fashionable department store, Duncan, the sophisticated riverboat owner and Cat, the sultry singer from the wrong side of the tracks who incites passion with her steamy torch songs, and Ian, the brilliant attorney who loves beautiful things and Naomi, the bookstore owner whose veneer of sophistication hides a shy, unattractive teenager she can't seem to forget.
The MacGregor Grooms
will make you laugh and cry out loud in turns, so be sure to read it when you're curled up in your favorite armchair without those nasty distractions of everyday life. Indulge!
---
The Lost Bride by Marianne Willman
St. Martin's, November 1998.
Paperback, 352 pages.
ISBN: 0312966245.
Ordering information:
Amazon.com.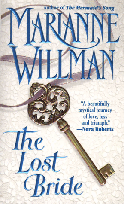 In 1880 England, Chloe Hartsell gets a terrible shock when she finds out that the lovely house in which she lives, Lacey's Folly, was not bequeathed to her as she expected, but to the handsome, rakehell artist Gideon Stone. Determined to sell off his inheritance, Gideon learns to his dismay that he must first find a husband and a home for Chloe. The two spend most of their time sparring and being irritable at the enforced living situation -- and fighting the growing passion between them. As time goes on, they both become determined to solve the mystery of the lovely old house. One hundred years ago, a beautiful woman vanished on her wedding night with a fortune in jewels. The legend says that she was taken by the fairies. Her portrait hangs in the house, and soon, Gideon is haunted by dreams of the beautiful, missing bride from long ago. One day, a young woman who is the spitting image of the portrait shows up at the house and Gideon is besotted. Is she the missing bride or a clever imposter? Chloe will have to use all her wits to find out the truth and win the man she has come to love.
Marianne Wilman has written a beautiful story with just the right mix of passion, mystery and enchantment. Chloe is a charmer as is Gideon, the artist who is determined to throw away life's most precious gift. Wilman has a gift for creating a magical setting and weaving a romantic spell that cannot help but entrance. A captivating and lovely tale.
---
Click here For Romance Reviews Page Two
Return to Book Reviews Index
---
More from Writers Write