Romance Book Reviews
Page Two of Two
Lone Star by Evelyn Rogers
Leisure Books, June 1999.
Paperback, 400 pages.
ISBN: 0843945338.
Ordering information:
Amazon.com.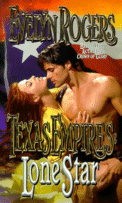 Texas in 1857 was a wild place. Although South Texas had some larger towns such as San Antonio and the capitol, Austin, life on a ranch had its share of challenges, such as attacks by the Comanches. But the biggest challenge that Kate Calloway will face is a tall, dark-haired stranger named Cord Hardin who rides onto her ranch and announces his intention of buying up the land around the Calloway ranch. The attraction between the two is immediate, but there's a problem. Cord has every intention of ruining Kate's father, T.J. Calloway, for a terrible incident in the past which involved both Cord and T.J. But Kate has a few secrets in her past, as well. As the two get to know each other, they find themselves drawn together. But will the hurts of the past keep them from ever knowing true love?
Evelyn Rogers has created an incredible, sweeping tale of passion, revenge and intrigue set in the wild, wild west which was 1850s Texas. The handsome and embittered Cord Hardin and the fiery and passionate Kate Calloway make a wonderful couple; sparks fly in their scenes together. With a vivid prose style which takes your breath away, and passion as sweltering and steamy as an August day in Texas, this is one story that readers will not be able to put down.
---
Scottish Brides by Christina Dodd, Stephanie Laurens, Julia Quinn and Karen Ranney
Avon, June 1999.
Paperback, 351 pages.
ISBN: 0380804514.
Ordering information:
Amazon.com.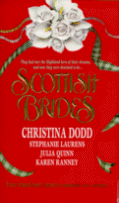 Get ready to laugh, to cry and to be transported to another time and place. When four such talented romance authors as these ladies team up for an anthology about Scottish romance, you know you are in for a treat. Christina Dodd gets the ball rolling with "Under the Kilt," a sexy, funny story which tells the tale of a haughty Englishman, Hadden Fairchild, and his encounter with the beautiful and proud Scot Andra McNaughten. Stephanie Laurens delights with her sensual and leisurely-paced story, "A Rose in Bloom," in which Duncan, the Earl of Strathyre gets the shock of his life when he returns to his ancestral home for the Midsummer's Ball to find his childhood playmate is all grown up. In "Gretna Green" Julia Quinn offers up a lighthearted, funny tale of Miss Margaret Pennypacker who, while searching for her errant brother, must pretend to be the wife of Scotsman Angus Greene. But soon pretending doesn't seem to be enough, and Miss Pennypacker may get more from her agreement with Angus than she bargained for. These four stories of Scottish brides are perfect escape reading: historical romance lovers shouldn't miss this one.
---
Romance Reviews
Page One
|
Page Two
Return to Book Reviews Index
---
More from Writers Write