Romance Book Reviews
The Internet Writing Journal
Shades of Gray by Vicki Hinze
St. Martin's, July 1998.
Paperback, 326 pages.
ISBN: 0312966105.
Ordering information:
Amazon.com.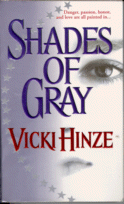 Laura Taylor is a retired Air Force communications specialist. Jake Logan is a Special Operations major in the Air Force who risks his life every time he goes on a mission for the clandestine unit. Jake's personal life isn't going so well. He has a small son that his alcoholic abusive ex-wife Madeline is trying to take away from him. Laura and Jake have been long-time friends, so it seems natural to enter into a marriage of convenience in order to stop Madeline's custody suit. Aware of his low odds for surviving his missions, Jake extracts a promise from Laura that they will never fall in love, however. But Jake's latest mission against some terrorists who use the deadly anthrax bacteria turns personal when Laura's photo turns up in the hands of a dead man. Is Laura a target of the group -- or a sympathizer and a traitor? Laura and Jake must fight off a determined Madeline, deadly assassins and their growing passion for each other if they in order to achieve what they both want most in life.
Shades of Gray
is not your usual romance. The characters are of a special breed for whom honor, country and loyalty are not just words, but are part of a personal code of honor which requires them to put their country before any personal considerations. Yet, even the most hardened Special Operative has a heart and is vulnerable, especially when his or her child is threatened. Laura and Jake ring true as characters, and their passion is always smoldering underneath the most mundane conversations. An interesting, suspenseful romance.
---
To Tame a Renegade by Connie Mason
Avon, September 1998.
Paperback, 376 pages.
ISBN: 0380793415.
Ordering information:
Amazon.com.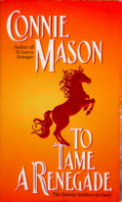 Bounty hunter Chad Delaney has come to Dry Gulch, Montana to track down a ruthless outlaw. While riding through town he stops some toughs from beating up a young boy who they are tormenting and calling a bastard. Chad takes the lad home and meets his unwed mother, Cora Lee, the disowned daughter of the local preacher. Cora Lee's life has been rough since the birth of Abner, a product of rape; nevertheless, she works hard to salvage her reputation and be a good mother. Although he has no intention of getting involved with a woman, Chad finds Cora Lee irresistible. When the outlaw he seeks returns and kidnaps Abner, Chad must overcome his bitterness at women, which arises out of his past, and put aside his demons to protect Cora Lee and her son. The two emotionally damaged, yet passionate people find solace in each other's arms, but is it enough to make a lasting relationship?
To Tame a Renegade
is the second entry in popular author Connie Mason's Delaney Brothers trilogy. The passion is as hot as the Western sun as the independent and proud Cora Lee and the ruthless, and yet kind Chad Delaney cross swords. The story is action-packed and filled with interesting details of the period. Lovers of western romances will be thrilled with Connie Mason's latest book and will eagerly await the final book in the trilogy:
To Tempt a Rogue
.
---
Return to Book Reviews Index