Romance Book Reviews
Page Two of Two
The Master by Melanie Jackson
LoveSpell, September, 2005
Paperback, 352 pages
ISBN 0505526433
Subgenre: Paranormal
Ordering information:
Amazon.com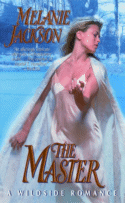 It's the week before Christmas and ER Dr. Nicholas Anthony is counting the days until the holidays are over. All Christmas means to Nicholas is the endless parade of holiday-related accidents: children with lights stuffed up their noses, children who have swallowed jingle bells which jingle every time the child moves, parents who fall off the roof while hanging Christmas lights etc. A nice guy, Nicholas just doesn't have the Christmas spirit. Working 48-hour shifts has him exhausted. Which could be the rational explanation for the fact that he has a ghost that talks to him every time he looks in the mirror. A ghost that looks just like Nicholas, only older. The ghost is always telling Nicholas things that he doesn't want to hear, like he should lighten up. That he's cut himself of from the world. Things like that. But Nicholas' life is about to get quite a bit more complicated. On the way to visit his family for Christmas, he gets caught in an ice storm. He stops at a deserted cabin to find shelter and ends up sharing the space with a lovely half fey, half goblin woman named Zee Finvarra and her two young siblings who are on the run from the Goblin hive. Nicholas finds himself in an alternate reality where Goblins, Fey and other creatures all exist. Nicholas must help Zee and the children find sanctuary with the fey in order to stop the powerful hobgoblin Qasim from sacrificing several hundred human children in order to regain his power and free his kin from being imprisoned in stone.
Newcomers to Melanie Jackson's alternate reality series would be best served by starting with the first book in this outstanding paranormal series,
Traveler
, than diving in right with
The Master
, although this story can stand alone. Fans of the series will enjoy the reappearance of characters from prior books and the scene-stealing Qasim is one of the most charismatic "villains" to come along in a long time. Any visit to the worlds created by Melanie Jackson is worth the trip.
---
One Knight Stands by Jocelyn Kelley
Signet Eclipse, October, 2005
Paperback, 304 pages
ISBN 0451216873
Subgenre: Historical
Ordering information:
Amazon.com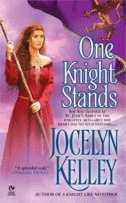 Queen Eleanor of Aquitaine is the patron of St. Jude's Abbey, a refuge for young women. At the Abbey, women can learn the skills they could normally never acquire in 12th century Britain: reading, writing and learning to fight. The women warriors of the Abbey serve the Queen and the very best are chosen to go on missions of great importance. Elspeth Braybrooke is one of the best when it comes to fighting with the quarterstaff and she trains the other young women at the Abbey. The Queen herself chooses Elspeth to find and then hide the legendary "speaking stone" of Merlin, called the Llech-lafar. Prophecy says that if the King steps on the stone, he will die, and the King is due home from Ireland very soon. Elspeth sets out on her quest and soon meets up with Tarran ap Llyr a prince of the north, who is on a quest of his own to revenge the killing of his wife. Tarran is impressed (and somewhat horrified) at Elspeth 's fighting prowess, but he also finds her beautiful. He eventually convinces her to join his party, which is escorting an elderly woman to her home before they continue on with their quest. But the two warriors are determined not to allow romance to interfere with their respective missions.
Strong women warriors such as Boudicca are part of the Celtic past, and Jocelyn Kelley taps into that tradition to create her unique and entertaining series about an Abbey that hides a group of women warriors who go against the grain of 12th century society. Ms. Kelley weaves real historical events into her story, and provides the reader with two likeable protagonists. Elspeth is particularly compelling: she never gives up, no matter what the setback. This is the perfect series for those enjoy a medieval background and a heroine who knows how to fight to get what she wants.
---
Romance Book Reviews
Page One
|
Page Two
---
Return to Book Reviews Index
---
More from Writers Write
---