Romance Book Reviews
Page One of Two
The Immortal Highlander by Karen Marie Moning
Dell, August, 2005
Paperback, 348 pages
ISBN: 0440237564
Subgenre: Paranormal
Ordering information:
Amazon.com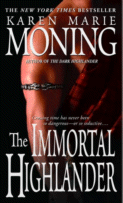 The darkest and most dangerous of all the Fae is the powerful and devastatingly handsome Adam Black, who has delighted for centuries in following the foibles of the human race. But when he intervened to save the life of Daegus MacKeltar (See,
The Dark Highlander
), there was a really big price to pay. The furious Fae Queen Aoibheal turned Adam into a human cursed with the
feth fiada
: humans can't see, hear or feel him. Sentenced to wander unseen and unnoticed in the human world, Adam is nearly at his wit's end with the misery of his punishment. He heads to Cincinnati to find his half-Fae son, who is unusually hard to find, for some reason. While sitting on a park bench, he notices that one human, law student Gabrielle O'Callaghan,
can
see him. Gabrielle is one of the rare humans who can see the Fae, but her Grandmother has drilled it into her head that she must never let on that she can see them, or she'll suffer a terrible fate. The other Sidhe-seers have been abducted and taken to Fairy to be tortured (presumably) since they were never heard from again. So when Adam Black shows up on Gabrielle's doorstep to ask for his help, she promptly punches him and slams the door in his face. Since that's never happened to the "irresistible to women of all ages" fairy, he's now determined to make her help him -- and fall for him.
Karen Marie Moning is a rising star in the romance genre: her Highlander series combines Celtic history and steamy sensuality with the harder-edged writing style of Laurell K. Hamilton or Kim Harrison. Ms. Moning is an expert at pacing: there is not one moment of her books that ever drags or is boring. She creates vibrant, unusual characters that practically leap off the page. Throw in some magic, humor and snappy dialogue and you have a story that is as spellbinding as Adam Black. And that's saying something.
---
Kiss Me While I Sleep by Linda Howard
Ballantine Books, April, 2005
Paperback, 384 pages
ISBN 0345453441
Subgenre: Contemporary Suspense
Ordering information:
Amazon.com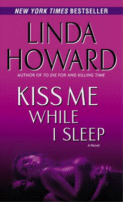 Lily Mansfield has been a contract assassin for the CIA for almost 20 years. Now 37, Lily is determined to pull off one last job. But this one is personal, not professional. Lily brilliantly executes an assassination of Salvatore Nervi, the ruthless criminal who had her best friends and young daughter murdered. After the killing, Lily knows the CIA will mark her as a renegade and send someone from the Company to kill her. The family of the man she killed is also after her for revenge. The CIA sends Lucas Swain after Lily. He has quite a bit of trouble tracking her down, but once he does he wastes no time getting close to her. Lily is exhausted from her ordeal and from being on the run and decides to trust Lucas after he rescues her from a hit squad. And when Lucas finds out that the same family is planning to release a flu virus that could cause a pandemic, he knows he has to help Lily stop the Nervi family from killing millions, no matter what his bosses say about Lily.
Linda Howard always has an interesting twist on traditional storylines, and this story is no exception. Ms. Howard takes the devastating grief of a parent for the loss of her child and uses it to fuel Lily's revenge. Lily is a complex and interesting character. Recruited by a shadowy and manipulative agent when she was just a teenager, her life has been shaped by her profession. And although her job prevented her from adopting the baby she rescued in a war-torn country, she acted as a godmother to the child, who was raised by her best friends: a married couple who were retired CIA contractors. Lily and Lucas make an engaging couple, and Lucas himself is a very appealing character. He's quite opinionated: his monologue on cars and his hatred for the tiny Fiat he's forced to drive around Paris is especially funny. Ms. Howard skillfully weaves together engaging characters, intrigue and heartfelt emotion in this must-read book for fans of
Alias
and
La Femme Nikita
.
---
Romance Book Reviews
Page One |
Page Two
---
Return to Book Reviews Index
---
More from Writers Write
---