Reviews of Writing Books
2000 Novel & Short Story Writer's Market edited by Barbara Kuroff
Writer's Digest Books, January 2000.
Trade Paperback, 678 pages.
ISBN: 0898799341
Ordering information
Amazon.com.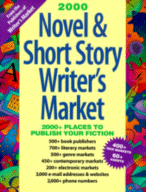 The Novel & Short Story Writer's Market
is an annual reference guide containing instruction and tips for submitting your work and getting it published, as well as listings of publishers looking for short stories and fiction. Also included are articles, interviews, features on different genres and information about writing conferences and contests. The market listings provide contact details, the needs of the publisher, payment and rights information and advice from the editors. The book features symbols which indicate new markets to this edition of the guide, the pay scale, magazines actively seeking new writers, online markets and markets which are easier for beginners to break into. Over 2000 market listings are provided in the reference including book publishers, literary agents, small circulation magazines, zines, consumer magazines, screenwriting markets, contests and awards. Markets are indexed alphabetically, by category, and by genre. Published annually,
The Novel & Short Story Writer's Market
is an excellent resource where writers can find market information quickly and easily. An annual must-buy for serious fiction writers.
---
The Writer's Guide to Character Traits by Linda N. Edelstein, Ph.D.
Writer's Digest Books, October 1999.
Hardcover, 331 pages.
ISBN: 0898799015
Ordering information:
Amazon.com.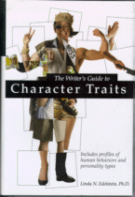 The Writer's Guide to Character Traits
is a great reference for helping writers with character development. Written by Linda N. Edelstein, Ph.D., a practicing psychologist and associate professor at the Chicago School of Professional Psychology, the book focuses on personality traits and human behaviors. Coverage in the book includes personality profiles, child and adolescent personality types, mental disorders, characteristics of criminals, personality traits associated with different careers, sexual development and disorders, group influences, effect of live events on behavior and nonverbal and verbal communication. With a better understanding of psychology, writers are able to write deeper characters and characters that will take realistic actions.
Dr. Edelstein explains psychological principles in an easy to follow manner. Her instruction is enhanced with examples, tables and lists. Understanding the psychology of behavior and personality is a critical skill for all writers. Crime writers looking for insights in how to write both victims and killers will find this book especially helpful. Dr. Edelstein's crash course about character and motivation is both unique and extremely helpful.
---
Writing Television Comedy by Jerry Rannow
Allworth Press, January 2000.
Paperback, 211 pages.
ISBN: 1581150423
Ordering information:
Amazon.com.
Comedy writer wannabes are introduced to the world of television comedy in this hard-hitting reference. The book provides the inside scoop on the business, while also providing much-needed advice and instruction on how to write comedy scripts. Coverage in the book includes: finding ideas, story outlines, writing dialogue, spec scripts, working with other writers, writing jokes, formatting scripts, creating a pilot and pitching a script. The book also provides examples and excerpts from the scripts of hit comedy shows such as
Welcome Back, Kotter, Head of the Class, Spin City
and
Dharma & Greg
.
This is an excellent guide for comedy television writers from comedy guru Jerry Rannow, who has written and produced for shows such as
Happy Days, Welcome Back, Kotter
and
Love Boat
. Rannow knows the television comedy business inside and out, and he shares his vast knowledge with budding television writers. Rannow doesn't hold anything back, and offers writers a tough, honest look at television writing, with some of his own humor thrown in: "Nobody ever said writing was easy. Except this one writer I knew, Howard Leek, who said writing WAS easy, which is why you've never heard of Howard Leek. The not-so-simple fact is that writing is damned hard work and there's a lot of sweat, skill and technique involved." Rannow has plenty of comedy script writing advice and insight into the world of comedy television writing; aspiring comedy writers should read each and every word.
---
Return to Book Reviews Index
---
More from Writers Write
---