Reviews of Writing Books
Page Two of Two
Novel & Short Story Writer's Market 2004 edited by Anne Bowling
Writer's Digest Books, November, 2003
Trade Paperback, 680 pages
ISBN: 1582971935
Ordering information:
Amazon.com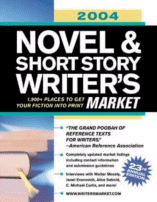 This guide is released annually by
Writer's Digest Books
; and each edition provides well-researched listings for agents and markets, as well as advice and information for writers. The book is so popular among writers for its detailed book and magazine publisher market listings that include contact information, needs of the publisher, payment details and advice from the editors. The book also provides information about agents, contests, conferences, writing program and writer's resources. In the advice department, the book includes business and craft of writing articles and interviews with top authors and editors. Some of the people interviewed for this edition include Walter Mosley, Janet Evanovich, Alice Sebold, Richard Russo and the editors of
The Atlantic Monthly, The Missouri Review
and
Ellery Queen Mystery Magazine
. Writers with fiction to sell will find plenty of pertinent information in this latest edition, and the book's layout and helpful indexes makes it easy for writers to quickly find the markets that interest them.
---
Words You Thought You Knew... by Jenna Glatzer
Adams Media, December, 2003
Paperback, 310 pages
ISBN: 1580629415
Ordering information:
Amazon.com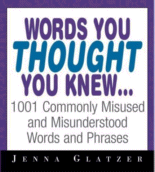 Do you know the difference between sensual and sensuous? Do you ever misuse words like sit and set? Nothing makes a worse impression in a resume, article or term paper than incorrect word usage. This handy small-sized book from Jenna Glatzer offers definitions and examples of usage for 1001 words that are often misunderstood or misused. Words like misnomer, rebut/refute, sycophantic and phrases like "begs the question" and
je ne sais quoi
are explained through examples and definitions. This helpful book allows writers to quickly look up words or phrases unclear to them or peruse the book to find words and phrases that might come in handy in a manuscript. There's even a quiz at the back of the book to help you check your word prowess. This book would make a terrific gift for any writer or student.
---
Write Up The Corporate Ladder by Kevin Ryan
Amacom, July, 2003
Paperback, 246 pages
ISBN: 0814471501
Ordering information:
Amazon.com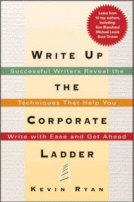 Corporate writing can be one of the most lucrative careers available to writers. In this book professional freelancer and college writing professor Kevin Ryan teaches writers what it takes to create effective business correspondence and how to excel at the corporate level. Ryan is also president of The Executive Writer, a consulting firm whose clients include Lucent Technologies and Procter & Gamble. Ryan covers topics important to business writers: standards, the "Plan Than Write" method, using formats and templates, writing clear and concisely, editing, proofreading, and writing brief memos and emails. The book also contains interviews with top business writers such as Richard Bolles, Suze Orman and Rhonda Abrams. Interviews with executives from major corporations like AT&T, Cisco Systems and Citigroup help show clearly how corporate writing impacts big businesses.
Write Up The Corporate Ladder
will help writers build their confidence and skill levels so they can approach corporate writing opportunities and manage complex assignments. This is the perfect book for the writer looking to enhance his business writing skills and for anyone looking to advance his career in corporate America.
---
Writing Book Reviews
Page One
|
Page Two