Reviews of Writing Books
Page One of Two
Hot Property by Christopher Keane
Berkley, August, 2003
Paperback, 297 pages
ISBN: 0425190404
Ordering information:
Amazon.com
Screenwriter and novelist Christopher Keane, author of the teleplay for the USA Network hit
The Huntress
, says the Hollywood industry has changed and is now wide open to novice screenwriters. In
Hot Property
, Keane explains the movie industry to screenwriters and teaches them how to get their screenplays read, bought and produced. Keane also discusses what makes a good script: characters, conflict, plot, structure and genre. Keane references well-known scripts that have been recently purchased, making comprehension easy. In the second half of the book, Keane analyzes a screenplay he wrote. The full screenplay is provided in the book with correct formatting and notes from to explain why he did what he did. This is a terrific book for novice screenwriters which gives great insight into how to create a great screenplay, as well as insider advice about the complicated business dealings that take place in Hollywood.
---
How To Write a Damn Good Mystery by James N. Frey
St. Martin's Press, February 2004
Hardcover, 371 pages
ISBN: 0312304463
Ordering information:
Amazon.com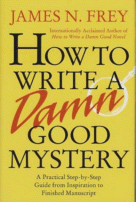 James Frey, author of numerous popular writing books, such as
How to Write a Damn Good Novel
, as well as the Edgar nominated mystery
The Long Way to Die
, brings his no-nonsense approach to writing to aspiring mystery writers. Building on Joseph Campbell's theories of story, Frey dismisses the writing books which focus on the minutiae of tips and tricks and focuses instead on creating fascinating characters which audiences will believe in and want to read more about. Frey takes readers through the process of writing a mystery novel: picking an outstanding hero or heroine (the discussion of the types of heroes in crime fiction is worth the price of the book by itself), finding a worthwhile plot, how to keep the action moving and so forth. He also focuses on why people read mysteries in the first place, and how that knowledge can help you write a commercially viable book. Frey is an expert and this is one advice book that is a fast and enjoyable read. This is a must-have for any aspiring mystery writer.
---
Writing Book Reviews
Page One |
Page Two