Reviews of Writing Books
The Internet Writing Journal
The Writer's Handbook 1998 Ed.
, Edited by Sylvia K. Burack The Writer, Inc., Oct., 1997.
871 pp. ISBN: 0871161834
Hardcover.
Ordering information:
Amazon.com.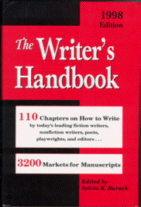 For 62 years, freelance writers have been relying on the yearly edition of
The Writer's Handbook
, published by The Writer, Inc., for the updated writer's guidelines, 110 chapters of practical writing advice by today's top writers such as Sidney Sheldon, Erica Jong, Madeleine L'Engle, Peter Meinke, Mary Higgins Clark and many more, and interviews with top authors about the issues that writers want to know about. Part 2 of the book is entitled Resources for Writers and contains 3200 markets where writers can submit their manuscripts, divided into 45 categories for easy reference. The markets have all been pre-screened; you won't find any vanity presses or magazines which charge a reading fee here. Other invaluable resources for writers include information on 168 cash prizes for unpublished stories, poems, plays, book manuscripts and essays, 124 literary and drama agents who have been prescreened (they charge no reading fees and are willing to look at the work of new writers), 40 writer's colonies which offer that perfect retreat in which to write, the 1998 major writing conferences around the U.S., information on the State Arts Council for every U.S. state as well as a glossary of publishing terms and a full index. If you are serious about being a writer,
The Writer's Handbook
is an essential resource to have on your shelf.
---
How to Write and Sell Your Articles, Edited by Sylvia K. Burack
The Writer, Inc., 1997.
99 pages. ISBN: 0871161826
Paperback.
Ordering information:
Amazon.com.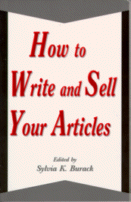 How to Write and Sell Your Articles
is a handy compendium of excellent, practical advice for the freelance writer. The fifteen chapters are all written by experts in their fields, such as Pulitzer prizewinner Donald M. Murray and leading self-help writer Samm Sinclair Baker. The book includes freelance topics such as science, true crime, writing feature articles, query letters, travel articles, query letters, how-tos, writing profiles and many more. For example, the article titled "How To Write a Winning Query Letter" by LindaAnn Loschiavo explains how to hook the editor and concentrate on your strong points in your query, through examples, instruction and a helpful list of guidelines. The other articles, all selected by Sylvia K. Burack, editor of the
The Writer
magazine, offer advice in the same complete, yet concise, manner. An excellent guidebook for the freelance article writer.
---
Writer's Guide To Hollywood Producers, Directors, and Screenwriter's Agents by Skip Press
Prima Publishing, 1997.
402 pp. ISBN: ISBN: 0761503994
Trade Paperback.
Ordering information:
Amazon.com.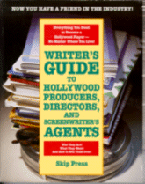 Screenwriter, author, journalist and educator Skip Press has created an incredibly useful research tool with his latest book, which includes full listings for producers, directors and agents with useful commentary throughout. But this book is much more than a comprehensive index -- it contains practical advice about what the screenwriting world is really like and what the novice screenwriter must know in order to break into this competitive field. Features include in-depth interviews with key players in Hollywood, essential information on formats, structure and submissions, a full guide to useful Internet sites and an inside peek at the inner workings of the film industry from a screenwriter's perspective. Written in Press' distinctively entertaining style, the book provides detailed, comprehensive information about navigating the Hollywood maze. A must-have for beginning screenwriters.
---
Click Here For Page 2 of Writing Book Reviews
Return to Book Reviews Index