Reviews of Writing Books
The Internet Writing Journal
The Dictionary of Concise Writing by Robert Hartwell Fiske
Marion Street Press, August, 2002
Paperback, 412 pages
ISBN: 0966517660
Ordering information:
Amazon.com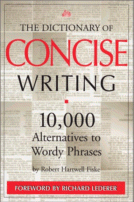 Concise writing has always been crucial for journalists and communications professionals. However, the need for concise writing has expanded substantially with the demand for short articles and pieces in web magazines, online newspapers and websites. This book begins with a chapter explaining why concise writing is so important, and offers practical suggestions about how to make your writing more concise. The chapter also points out numerous ways wordiness creeps into our writing. The bulk of the book is the dictionary itself, which is a very useful collection of wordy phrases that can be shortened or deleted. Each entry includes a list of short alternative words and a sentence showing how the shorter alternative word or phrase works. For example,
excruciatingly painful
becomes
excruciating
or
painful
,
in spite of the fact that
becomes
although
or
even though
and
window of opportunity
becomes
chance
or
opportunity
. This dictionary's author, Robert Hartwell Fiske, is also the publisher of
The Vocabula Review
, an online journal about the English language. The
Dictionary of Concise Writing
is a must-have resource for journalists and writers. It contains thousands of ways to trim your sentences and strengthen your prose.
---
Lessons From a Lifetime of Writing: A Novelist Looks at His Craft by David Morrell
Writer's Digest Books, March, 2002
Hardcover, 243 pages
ISBN: 1582971439
Ordering information:
Amazon.com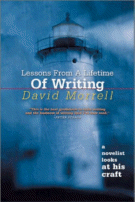 New York Times
bestselling author David Morrell certainly knows how to craft a novel which readers will rush to the stores to buy. After all, he gave the world Rambo in his classic novel
First Blood
, as well as numerous bestsellers such as
The Brotherhood of the Rose, The Fifth Profession, Desperate Measures
and
Burnt Sienna
. But fans might be surprised to learn that Morrell was a professor of American literature for many years, and is equally at home discussing the classics as he is dissecting the perfect suspense novel. Luckily for aspiring authors, Dr. Morrell has written a new book sharing his insights as an author for over thirty years.
The book is written in a friendly, approachable style -- it is clear why he was such a popular teacher for so many years. In fact, reading the book is like having a one-on-one tutorial with David Morrell. He covers every topic imaginable, from finding out why you really want to write a novel, how to get focused, creating plots, characters, structure, and believable dialogue. He also covers point of view, research, descriptions, writer's block, and how to get published and market your books. The advice is excellent, and Dr. Morrell provides wonderful (and often quite funny) anecdotes from his own experiences as a writer. This is a must-have for anyone with serious aspirations to be a novelist.
---
Writer's Guide to Book Editors, Publishers and Literary Agents 2003-2004 by Jeff Herman
Prima, July, 2002
Trade Paperback, 892 pages
ISBN: 076153735X
Ordering information:
Amazon.com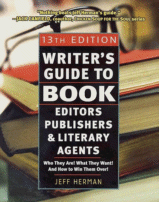 The new edition of the annual
Writer's Guide
offers a plethora of detailed information for would-be authors about agents, editors and publishers. The publisher listings are divided into four sections: U.S. publishers, university presses, religious, spiritual, and inspirational publishers and Canadian publishers. The publisher listings include contact information and names of editors, full write-ups about the publisher, including recently published books, a description of any imprints and background information about the editors. Some questions and answers are with a specific editor are also provided. The second section in the book covers agents. Like the publisher listings, agent listings also include contact information and a write-up which gives detailed information about each agent or agency. Some of the agents also answer question and answers, and give their descriptions of what makes a "Client from Hell" and what makes a "Dream Client". A final section in the book contains essays from industry insiders covering issues such as getting an agent, book promotion, contracts, book doctors and self-publishers.
The
Writer's Guide
is written by New York literary agent Jeff Herman, owner of the Jeff Herman Literary Agency. The agent and publisher listings are invaluable; they contain inside information that you won't find elsewhere. When looking for an agent or publisher, it is crucial that writers target the right person who publishes that writer's type of book. The
Writer's Guide
takes the guesswork out of pitching, and is an essential tool for aspiring authors.
---
Return to Book Reviews Index