Out to Canaan by Jan Karon Review
Viking Press, May., 1997.
Hardcover, 342 pages.
ISBN: 067087485X.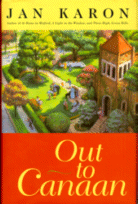 This is the fourth entry in the enormously popular Mitford series which chronicles the life in the tiny North Carolina town of Mitford. The first book in the series was At Home in Mitford which was given an ABBY Honor Award by the American Booksellers Association in 1996. In Out to Canaan, change is coming to Mitford. A mud-slinging mayoral race is underway with newcomer and proponant of urban development Mack Stroupe taking on Mitford's longtime mayor Esther Cunningham, who has long been the champion of the preservation of the unique charms of Mitford. Father Timothy (who is staring retirement in the face) and his wife Cynthia have their hands full with caring for adopted son Dooley and a house full of visitors and guests needing their attention. The popular local bakery may be closing and a fancy, European style spa may be moving to town, causing many residents to wonder what is happening to the normally sleepy pace of quiet Mitford.
Jan Karon has a unique gift for recreating the charms and manners of a small town which has earned her a loyal readership who await each installment in the Mitford Years series. The interaction between the characters and the gentle humor make for a leisurely, heartwarming read.
Ordering information: Amazon.com.


---
More from Writers Write