Oliver Twist by Charles Dickens Review
by Editor
Oliver Twist
by Charles Dickens
Adapted by Naia Bray-Moffatt, Illustrated by Ian Andrew
DK Publishing (Eyewitness Classics), April 1999.
Hardcover, 63 pages
ISBN: 078943959X.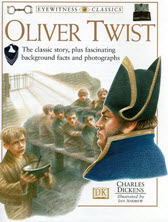 Abridging, or the retelling in simpler language of a literary classic, has a venerable heritage. One is reminded of Charles and Mary Lamb's nineteenth century edition of Tales from Shakespeare, which was met with much approbation and affection by parents and children alike. It quickly became a classic form in which the plot remains, the characters remain, but the difficult vocabulary and sophisticated sentence constructions of literature can be left to be enjoyed later in life.
As parents, teachers and friends, it is our duty to impart the best from our collective culture and history to the next generation so that they will have a standard by which to compare all the new experiences they will meet in life. The Eyewitness Classics edition of Oliver Twist has done a masterful job of presenting this exciting story for young readers. As the reader looks through the book, the first section gives an excellent presentation of the importance of this story as the first story in English that has a child as the main protagonist, the interest that Victorians had in the underworld, and the importance that the story had to its readers.
Throughout this rendering of Dickens' classic tale, the reader will find the sensitive drawings by Ian Andrew, who renders the bleak environment of poverty, crime and hopelessness in somber colors and stark details. The illustrations catch the emotions of the moment as Oliver looks up at the overpowering master and beadle to ask for more food, or when he looks out his window to see the faces of Fagin and Monks staring at him. In addition to the illustrations the story gives an accurate picture of the historical milieu by including interesting photographs with accompanying captions underneath. From early photographs of street scenes of impoverished children squatting against a wall under a clothes line to an interesting collection of pictures that explains the origin of the word "bobbie," the illustrations are both enlightening and moving.
Parents can turn their young readers loose in the literature of most of the great Victorian writers with confidence that there will be adventure, heartbreak and excitement, that will always be accompanied by high moral standards phrased in acceptable language. The evil characters will either be redeemed or severely punished, and decent, kindly persons will achieve the happiness that they deserve.
Oliver Twist begins with a baby boy orphaned at birth, raised in a poor house, apprenticed at nine to a brutal funeral director and his wife, and finally apprenticed to the evil Fagin as a student thief on the streets of London. No one could face a more hopeless future. Oliver is befriended by two victims who are set up to be robbed by his acquaintances. The first victim is a kindly old gentleman who is buying books at a London booksellers stall. Two of Fagin's boys rob the old gentleman, but Oliver is blamed. At the magistrate's courtroom, Mr. Brownlow recognizes Oliver's true nature, and takes him home. However Oliver's new cohorts retrieve him when he is sent on an errand. Next Oliver is taken out on a burglary which goes awry. In the confusion Oliver, faint with hunger and neglect, stumbles back to the house that he was supposed to help rob where he is taken in this time by two kindly women. Fearful that he may help identify them, Fagin and his friends are always out to get Oliver back. Nevertheless, Oliver is helped by Nancy, the unfortunate wife of the brutal Bill Sikes. Nancy pays with her life, but her murderous husband is hunted down, makes a misstep as he tries to escape and meets a violent death. Fagin is discovered and sent to Newgate Prison to be hanged. Oliver, on the other hand learns the true circumstances of his birth, claims his inheritance and goes to live in a pleasant village among good and kindly friends.
Oliver Twist is an excellent book for the older elementary student. The hard edged adventure and solid values taught are readily understandable for a child of this age, and this book will no doubt leave a young person with respect for the author and an interest in reading other books by Charles Dickens.
--Sarah Reaves White
Ordering information: Amazon.com.
---
More from Writers Write