Nonfiction Book Reviews
Page Three of Three
The Feeling Good Handbook by David D. Burns, M.D.
Plume, June 1999.
Trade Paperback, 729 pages.
ISBN: 0452281326.
Ordering information:
Amazon.com.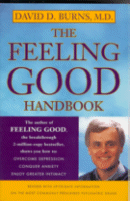 The Feeling Good Handbook
is an information-packed reference and self-therapy tool for sufferers of anxiety and depression. The book is written by David D. Burns, M.D., author of the successful book
Feeling Good: The New Mood Therapy
, a self-help guide to treating depression using the drug-free cognitive therapy program which he helped pioneer. His new book combines his cognitive therapy principles with practical advice to help readers learn to cure everyday problems such as irrational fears, panic attacks, procrastination, self-defeating attitudes, intimacy, bad communication skills and anxiety. Highlights in the book include: the Burns Anxiety Inventory and the Burns Depression Checklist, two mood tests to help you determine if you are suffering from depression or anxiety; Daily Mood Logs, to record your moods so you can determine what causes your stress and track mood improvements; and the Tic-Toc technique, a tool for monitoring and overcoming procrastination. Instruction in the book is practical and positive and there are plenty of step-by-step outlines, charts, writing assignments and exercises to help the reader along. While the methods explained in the book emphasize drug-free treatments for depression and anxiety, the book also contains a comprehensive section on antidepressant and anti-anxiety medications. The reference contains answers to commonly-asked questions, information and charts about each medication including costs, dose ranges and side effects, and information about common errors in prescribing these types of medications.
The Feeling Good Handbook
is a compact resource on depression and anxiety, with techniques to help you determine your own symptoms and then work out a solution. An excellent reference and self-help program for improving one's mental health.
---
Nefertiti, Egypt's Sun Queen by Joyce Tyldesley
Viking, March 1999.
Hardcover, 232 pages.
ISBN: 0670869988.
Ordering information:
Amazon.com.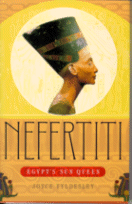 Think of the most beautiful woman of the ancient world, and the bust of Nefertiti, now housed in the Berlin Museum, immediately comes to mind. Yet more information can be recalled about Cleopatra than about Nefertiti. Joyce Tyldesley has done a masterful job of scholarship which does much to solve some of mystery surrounding this fascinating beauty. After having written
Daughters of Isis
, and
Hatchepsut : The Female Pharaoh
, Ms . Tyldesley is uniquely qualified to enlighten us.
The problem of the disappearance of Nefertiti is complex. We know that her royal husband, Akenaten changed the traditional religion to worship of one god, the sun god, and that he more or less threw out the old pantheon of many gods. That the people had no choice but to follow his lead, is obvious. We also know that he elevated Nefertiti to an almost equal status, and that she also took part in important religious observances. We also know that she produced daughters, but no sons. Then from great prominence, we see that she suddenly disappeared from public art, and we have never found her tomb. We may never know just exactly what happened. Did she fall from grace when after her husband's death the Egyptian people happily returned to the old gods? Or did she get caught up in a political/religious power struggle? Faced with the lamentable fact that the subsequent kings of Egypt were eager to recycle the monuments of earlier kings into their own with subsequent "erasures" of earlier cartouches, we may never resolve the mystery. And yet the solution may just be as yet undiscovered. After all, the most famous representation of Nefertiti was only discovered in 1912 and exhibited in 1924.
Regardless of what we may yet find hidden beneath the sands of Egypt, the mystery of what really happened to the religious rebel, Amenhotep, and his beloved wife remains intriguing . The obvious links to modern interpretations of what a royal family should be, according to Western thinking, will always fascinate us. We see a king who turned his back on polytheism and worked towards monotheism. Court artists show a royal family not only in official duties, but in affectionate domestic poses. Then, the next dynasty tries to erase the history of his reign. What happened? We shall always want to know. Ms. Tyldesley's balanced scholarship is well worth reading.
--Sarah Reaves White
---
The Heathful Gourmet Chinese Cookbook by Rose Lee
HPBooks, 1999.
Trade Paperback, 326 pages.
ISBN: 1557882991.
Ordering information:
Amazon.com.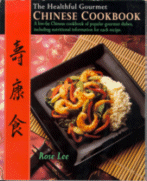 The Healthful Gourmet Chinese Cookbook
is a collection of recipes and cooking instruction by Rosa Lee, who studied at the Pei Mei Culinary Institute in Taipei and has been both a Chinese restaurant chef and owner. She is currently an author and cooking instructor. Ms. Lee's guide to healthy gourmet Chinese cooking begins with an introduction to cooking techniques and utensils including blanching, braising, steaming, stir-frying, woks, cleavers and steamers. The rest of the book is the recipe section which contains over 200 recipes with detailed cooking instructions, lists of ingredients and a nutritional analysis of each recipe which contains per serving calories, fat grams, saturated fat, carbohydrates, dietary fiber, protein, cholesterol and sodium. The book includes classic Chinese recipes and restaurant-popularized offerings in food categories including: appetizers, soups, salads, fish, poultry, meat, rice, noodles, breads, seasonings, sauces and desserts. Some excellent recipes in the book include: wonton chips, dumplings (pot stickers), egg drop soup, tofu, broccoli with garlic sauce, seafood stir-fry, Peking duck, fried rice, lo mein noodles, sweet and sour sauce, mu shu pork and many others.
Rose Lee has put together a great collection of Chinese recipes that are both low-fat and delicious to eat. A treasure for lovers of Chinese food who have to avoid the high-fat Chinese restaurants because of diet restrictions.
---
Nonfiction Reviews
Page One
|
Page Two
|
Page Three
Return to Book Reviews Index
---
More from Writers Write