Nonfiction Book Reviews
Page One of Three
How to Survive Your Boyfriend's Divorce by Robyn Todd and Lesley Dormen
Evans, June 1999.
Hardcover, 224 pages.
ISBN: 0871318873.
Ordering information:
Amazon.com.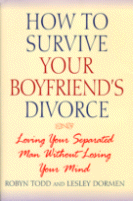 With divorce statistics what they are (65% of marriages end in divorce), it seems clear that many women will end up dating men who are in the process of ending their marriages. These men may have filed for divorce or are just thinking about it, but the risk to single women is the same. For one thing, divorced men bring a whole cast of characters with them into their relationships: kids, ex-wives, lawyers and the like. Knowing how to deal with these people is crucial if you want to keep your relationship on track.
Finally, someone has written a practical, no-nonsense, yet sympathetic guide for women who are dating men who are going through a divorce. The authors take readers through such helpful chapters as, "The Almost Perfect Man," "Why is His Divorce Taking so Long?," "You're Going to Love My Kids", and "Have You Waited Too Long? Ultimatums, Last-Ditch Strategies," and "Your Invisible Line." Filled with anecdotes and practical advice for real situations, each chapter is loaded with helpful information. Written with wit, humor and a load of common sense, this is an invaluable book for any woman dating, or even considering dating a man in the middle of a divorce. Highly Recommended.
--Claire E. White
---
Althorp: the Story of an English House by Charles Spencer
St. Martin's Press, May 1999.
Hardcover, 167 pages.
ISBN: 0312208332.
Ordering information:
Amazon.com.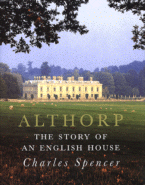 Charles, the Ninth Earl Spencer, attained worldwide acclaim for his amazing and eloquent tribute to his sister, Princess Diana, at her funeral. Now, in this fabulous book he tells the story of Althorp -- the family seat of the Spencer family for over 500 years. The tone is intimate and self-deprecating with a dry wit. Earl Spencer takes the reader on a tour of the great home, room by room and generation by generation, telling a fascinating tale of both the Spencer family and of the estate which became the resting place for its most famous member, Princess Diana. Surprisingly candid, Earl Spencer shares tidbits of his childhood (the house was a frightening place for children at night with its strange noises and drafty hallways), and how he faced great trepidation at the thought of taking over the family home. When he finally did take over the house, he found the home resembled a disaster area. From the tasteless redecorating (oatmeal carpeting in the picture gallery and faux malachite pillars elsewhere) to the virtual looting of the art treasures by Charles' stepmother, Raine, the desecration was overwhelming. But his restoration plans were carried out flawlessly, and the home is once again an incredible treasure of art, history and antiques. The room where a former Earl took Winston Churchill to task for smoking a cigar near valuable manuscripts is gone, but the rest of the estate and the sense of history remains. Lovers of beautiful homes, history and of Princess Diana will cherish this marvelous history of the famous country house.
---
Nonfiction Reviews
Page One |
Page Two
|
Page Three
Return to Book Reviews Index
---
More from Writers Write