Nonfiction Book Reviews
Page Two of Three
Difficult Conversations: How to Discuss What Matters Most by Douglas Stone, Bruce Patton and Sheila Heen
Viking, March 1999.
Hardcover, 250 pages.
ISBN: 0670883395.
Ordering information:
Amazon.com.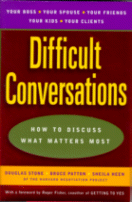 Difficult Conversations
provides instruction and information about how to handle complicated conversations at home and at work. The book helps the reader to analyze different conversations to show what causes aggression and discomfort in others and themselves. The book also provides advice on why people avoid conversations and often handle conversations poorly. The book offers solutions to these problems including methods to avoid blame, express feelings, deliver bad news, make requests, listen to others and speak with clarity and power.
Difficult Conversations
is a valuable resource for those wanting insight on the psychology of conversation and for those looking to increase their social skills. This self-help reference is also valuable for those who are having problems discussing a tender subject with a business associate, employer, friend or family member.
---
Latin American Spanish in Three Months by Isabel Cisneros
DK Publishing, June 1999.
Trade Paperback, 181 pages.
ISBN: 0789442159.
Ordering information:
Amazon.com.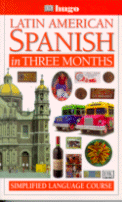 Latin American Spanish in Three Months
is a language course in a book format that helps you learn Spanish through step-by-step instruction, vocabulary lists, grammar lessons, conversation drills and exercises. Answers to the exercises can be found in the back of the book. The book follows the special Hugo method which focuses on the essentials of the language to speed up learning. Hugo's method also includes an "imitation pronunciation" system which helps make it easier to learn the correct pronunciation. Overall, this is an effective Spanish language course for the quick study and for those who don't have time to take a formal language class.
Latin American Spanish in Three Months
is part of the excellent, simplified language course series from DK Hugo. Other languages covered in the series include: Arabic, Chinese, Czech, Danish, Dutch, German, Greek, Hindi, Italian, Japanese, Norwegian, Polish, Portuguese, Russian, Scottish Gaelic, Swedish, Turkish and Welsh.
---
Nonfiction Reviews
Page One
|
Page Two
|
Page Three
Return to Book Reviews Index
---
More from Writers Write