Nonfiction Book Reviews
Page One of Three
American Horticulture Society: Gardening in Shade by Linden Hawthorne
DK Publishing, April 1999.
Paperback, 72 pages.
ISBN: 0789441543.
Ordering information:
Amazon.com.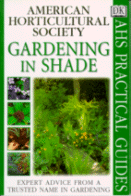 Gardening in Shade
is a handy concise reference which provides detailed information and colorful pictures about growing plants in shaded areas. The book helps readers learn how to choose plants that grow well in the shade, how to prepare and plant shade plants and keep them healthy and how to arrange and display shade plants. In addition to the instruction, the book also includes a directory of shade plans with pictures and descriptions. Also included is specific information about different types of shade, shade plants for different seasons and planting under trees.
Gardening in Shade
is part of a collection of concise American Horticulture Society gardening guides. Other titles in the valuable AHS gardening series include:
Clematis, Containers, Flowering Shrubs, Herb Gardens, Lawns & Groundcovers, Paths & Paving, Perennials, Ponds & Water Features, Roses, Small Gardens
and
Water-wise Gardening
.
---
The Cottage Garden by Christopher Lloyd and Richard Bird
DK Publishing, June 1999.
Trade Paperback, 192 pages.
ISBN: 0789443058.
Ordering information:
Amazon.com.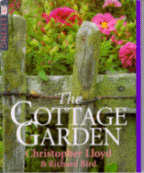 The Cottage Garden
is an in-depth and picturesque guide to creating and cultivating a country garden. The reference provides full-color pictures of scenic cottage gardens, cottage-garden plants and detailed advice on how to arrange and grow each type of plant. The first section of the book covers cottage-garden plants including: flowering plants, traditional herbs and fruits and vegetables. Detailed information about each plant is provided including descriptions, photographs and cultivation suggestions. The next section covers cottage-garden features and provides instruction about how to create and install these features. Features covered in this section include gates, doors, fences, walls, hedges, ponds, streams, ditches, pathways, planted containers, garden furnishings and outbuildings. The next chapter, "Planning the Cottage Garden," provides six full-color plans for cottage gardens. The final chapter provides information about maintaining your cottage garden, including: gardening tools, gardening techniques and suggestions about what to do with the produce. Also included are recipes for cider, wine and jam and advice about creating fragrances such as pot pourri.
The Cottage Garden
is a remarkable book for developing a country style garden with any amount of space available, large or small. Recommended for serious gardeners.
---
Nonfiction Reviews
Page One |
Page Two
|
Page Three
Return to Book Reviews Index
---
More from Writers Write