Nonfiction Book Reviews
Page Two of Two
Money Clips by Lorraine Spurge
Hyperion, June 2000.
Paperback, 256 pages.
ISBN: 0786884975.
Ordering information:
Amazon.com.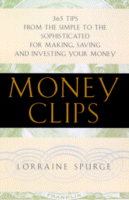 This personal finance resource includes 365 tips for making, saving and investing money. Information is organized into chapters, like a normal reference book, but the advice is provided in the form of short tips, making it much easier for the reader to digest. The book also includes charts, tables and graph when needed to help explain a topic. For example, readers can find a graph of the effects of inflation, a table showing investment growth over time and a table showing monthly mortgage payments for different loan amounts. The book also includes several sample worksheets to help the reader get going on their finances including worksheets for figuring your net worth, organizing the family budget, adding up your debt and determining what kind of investor you are. The book covers all aspects of personal finance with chapters about careers, managing your household, banking, credit, mortgages, loans, teaching kids about money, saving, investing, taxes and long-term planning.
Author Lorraine Spurge worked her way up from secretary to high ranking positions in investment banking. She is now in head of her own firm, Spurge Ink, which publishes business information. With
Money Clips
, she provides a well-researched financial guide full of quick tips and advice that can help you learn how to earn and save more money. Readers will appreciate the well-organized topic areas and that each subject is provided as a new tip.
---
The White Sharks of Wall Street by Diana B. Henriques
Scribner, May 2000.
Hardcover, 368 pages.
ISBN: 0684833999.
Ordering information:
Amazon.com.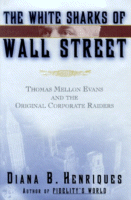 The White Sharks of Wall Street
tells the life of corporate raider Thomas Mellon Evans, who fiercely acquired companies using aggressive business techniques that are common practices today, but were much less known in the 1940s to 1960s, when he was busy acquiring some 80 companies. Some of his practices developed into what today is referred to as downsizing, shareholder value, mergers, conglomerates and hostile takeovers. His aggressive business style was also well ahead of its time. The book follows his life and that of numerous other corporate raiders, including Charles Green, Art Landa, Patrick B. McGinnis, Louis E. Wolfson and Robert R. Young. The book also chronicles Evans' personal life. Evans had a tough life -- he was orphaned as a young boy and went through two divorces. The book also discusses his relationship with his sons, who also became big names in the business world, and who were even business rivals to Evans at various times in their careers.
Pulitzer Prize-nominated
New York Times
financial reporter Diana B. Henriques provides in-depth insight into the ideas and actions of Evans and other early Wall Street corporate raiders. The book also serves as a fascinating look behind the scenes of major business dealings in the 1950s and 1960s, and the start of aggressive business tactics.
The White Sharks of Wall Street
is a captivating biography and historical account that should be of interest to business executives and scholars alike.
---
Nonfiction Reviews
Page One
|
Page Two
Return to Book Reviews Index
---
More from Writers Write