Nonfiction Book Reviews
Page One of Two
JonBenet: Inside the Ramsey Murder Investigation by Steve Thomas with Don Davis
St. Martin's Press, April, 2000.
Hardcover, 356 pages.
ISBN: 0312253265.
Ordering information:
Amazon.com.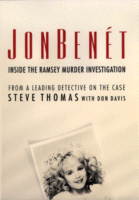 The murder of a beautiful little six year old girl in an affluent Denver home on Christmas night in 1996 has shocked and saddened the nation for over three years, and we are no closer to a resolution now than when this tragic event occurred. Supermarket tabloids as well as prime time news shows have mentioned clues and interviewed the parents; all of which simply added to the confusion. Now Steve Thomas, a former police detective who has resigned from the police force, has written a meticulously detailed reconstruction of the case.
One of the most common reactions to this case has been a shaking of heads over why any family, particularly a wealthy family, would want to subject a child to beauty pageants in which little girls, quite beautiful in their glowing youth, are dressed like mature women, their hair bleached, makeup applied and lessons given in how to strut seductively. This all seems slightly obscene and highly suspect to many Americans. In Part One, detective Thomas clearly lays out the setting of this haunting mystery, and the reader begins to enter into this different, although fascinating, world. Pathetically, this part is named after the last contest that JonBenet won in her short life: "Little Miss Christmas." Having a mother and an aunt who both won the titles of Miss West Virginia, little JonBenet was on her way to capturing the coveted crown of Miss America for the family. She certainly had knowledgeable instructors in the female members of her mother's family.
The four remaining sections of the book try to explain what went wrong in the investigations that followed. Mr. Thomas is so thorough in his searches that the reader is reassured that nothing further is to be learned about this case at the present time. He also chronicles what he complains of as official foot dragging combined with the frightened and perhaps understandable front put on by the family of the victim, in the face of the fierce onslaught of police investigations. Detective Thomas constantly complains that the police department is unable to break down the family's reserve because they always have their attorneys present. Most readers will conclude that it is supposed to be the right of the accused to have legal counsel.
Surely some day the real truth will be laid before us. One is reminded of just how long it took to finally find out what happened in the famous Dr. Sam Shepherd case that so captured our imaginations that it spawned a television series. Until the day that we find out what actually occurred, the only way to know most of what really happened is to read
JonBenet
. Whether or not you believe that the child's mother committed the murder to cover up an accident after another bed-wetting incident, or you find that the theory of an outside intruder is plausible, knowing the facts will put to rest many questions that have arisen about this tragic and intriguing case.
--Sarah Reaves White
---
Lyle Price Guide to Uncommon Antiques and Oddities by Anthony Curtis
Perigee, June 2000.
Trade Paperback, 512 pages.
ISBN: 0399526064.
Ordering information:
Amazon.com.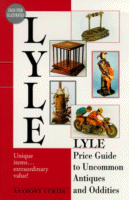 The Lyle Price Guide
is well-known to collectors and antique-lovers alike. This edition of the Guide covers uncommon antiques and oddities. These unusual items have value, because they have become highly prized by collectors. As the editor Anthony Curtis suggests, "Usually beautifully made, it could be said that there is even more of the craftsman in them than usual, being made not just with a professional competence, but with a large investment of the maker's own ingenuity, humor and character, often, one feels, for his own personal gratification." The book contains over 1500 listings of these collectibles. Listings include value of the item, a description, the auction house where sold, and a black-and-white photograph. Some of the categories included are: amusement machines, bear jugs, bubblegum wrappers, chickens, corkscrews, dog collars, gnomes, incense burners, lamps, letter boxes, owls, paperweights, robots, rocking horses, sleds, snuff boxes, tea caddies, thimbles, tramp art, umbrella stands and whistles. This is not your typical antique price guide, but for lovers of the more unusual collector's pieces who are likely to find themselves at a flea market or garage sale this book should come in quite handy.
---
Nonfiction Reviews
Page One |
Page Two
Return to Book Reviews Index
---
More from Writers Write