Nonfiction Book Reviews
Page Two of Two
Pillsbury Fast and Healthy Cookbook by The Pillsbury Co.
Clarkson Potter, April 1998.
Hardcover, 352 pages.
ISBN: 0609600850.
Ordering information:
Amazon.com.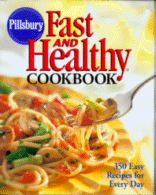 For those trying to follow a low-fat and healthy diet, the
Fast and Healthy Cookbook
is a real find. With full color photos and full recipes presented in the same style as the eponymous magazine, this is a practical and easy to follow guide for creating low fat meals which don't take a lot of time in the kitchen. Most of the recipes require 30 minutes or less to prepare. The cookbook also includes a thorough primer on the basic food groups, nutrition and guidelines for healthy eating. The philosophy of this cookbook is that eating healthy doesn't have to be boring or make one feel deprived. With that in mind, the recipes are varied and interesting, including such dishes as Artichoke and Cheese Crostini, Artichoke Tabbouleh Salad, Spicy Texas Chili, Chicken Piccata, Beef Tenderloin with Mushroom Shallot Sauce, as well as guilt-free indulgences such as Double Chocolate Chip Cookies and Fresh Pineapple Tart. The chapters include appetizers, salads, soups, stews and chilies, poultry, beef, seafood, vegetarian entrees, side dishes, breads and desserts. An invaluable reference guide for those who like healthy eating but don't want to slave away in the kitchen all day to get it.
---
Proven Proposal Strategies to Win More Business by Herman Holtz
Upstart, April 1998.
Hardcover, 179 pages.
ISBN: 1574100882.
Ordering information:
Amazon.com.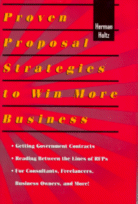 Herman Holtz, an expert on consulting and an author of over sixty how-to books, has created another winning reference book with this proposal strategy guide. Holtz offers advice on how to understand what the client's needs are and how to use that knowledge to create an effective proprosal that you can sell to the client to obtain a contract. Holtz uses a step-by-step approach to guide you through the process of developing a proprosal, beginning with discussion of the "Unique Selling Proposition" and how to fully analayze the client's RSP (Request for Proposal). After explaining how to target your proposal to the client's needs based on the RSP and other intelligence Holtz shows you how to obtain about the client, the book teaches methods on how to effectively submit and present the proposal. Holtz also provides charts, outlines and real-world examples. A practical reference and guide to making your proposals more effective and sellable.
---
Non-Fiction Reviews
Page One

Return to Book Reviews Index




---
More from Writers Write