Nonfiction Book Reviews
Page One of Two
Africa by John Reader
Knopf, April 1998.
Hardcover, 800 pages.
ISBN: 0679409793.
Ordering information:
Amazon.com.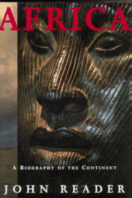 Africa
is a well-written comprehensive tome on the life and nature of Africa. The book addresses numerous topics about African people, geography and wildlife including: animal and plant life, the Nile river, the slave trades, the diamond minds, genocide, civil wars, Zulu myths, disease, harvests and independence. The book also contains beautiful photographs of the land and people and a bibliography that details the large number of books referenced to complete this work.
Africa
is a pleasure to read, full of unique stories and perspectives on all aspects of the continent. Any lover of geography, biology or history won't want to miss this book. Author John Reader, a London writer and photojournalist who has lived and traveled Africa for many years, knows and loves his subject and that passion shows in this excellent work.
---
Marriage Shock by Dalma Heyn
Dell Publishing Co., April 1998.
Trade paperback, 198 pages.
ISBN: 0385324022.
Ordering information:
Amazon.com.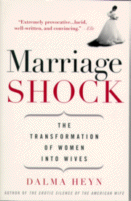 In the 1990s, two thirds of all divorces are instigated by women. Depression rates of married woman triple that of single women and are five times that of married men. Author Dalma Heyn set out to find out why. What she found was that most women are not unhappy in their marriages for the traditional reasons, but because of the unrealistic expectations that our society puts on women once they become married. Heyn argues that in our society the entire burden of nurturing the relationship itself falls on the woman. Furthermore, the concept of a "good wife" forces women into becoming something other than what they are, by denying their own wants and desires. Heyn explores the concept of "marriage shock", the realization of this fact which strikes woman after the whirl of courtship and the honeymoon are over and discusses ways to overcome the consequences. An incisive and controversial work,
Marriage Shock
has an interesting premise that will resonate with many women -- both single and married alike.
---
Non-Fiction Reviews
Page Two

Return to Book Reviews Index




---
More from Writers Write