Nonfiction Book Reviews
Page Two of Two
How to Become a Great Boss by Jeffrey J. Fox
Hyperion, May, 2002
Hardcover, 167 pages
ISBN: 0786868236
Ordering information:
Amazon.com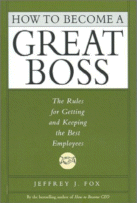 Jeffrey Fox, the bestselling author of
How to Become a Rainmaker
and
Don't Send a Resume: And Other Contrarian Rules to Help Land a Great Job
, targets the men and women at the top in his latest reference book in his how-to series that in the know business people are buying up in droves. Fox packages his wisdom in small-sized hardcovers that fit neatly into a briefcase, purse or desk drawer. He takes a no-nonsense, common-sense approach to business matters, but what Fox thinks is common sense often runs counter to traditional thinking. With chapters such as "Companies Do What the Boss Does," "Groom 'Em, or Broom 'Em," "Hire Slow, Fire Fast," "Don't Check Expense Accounts," "'Quit' Is for Scrabble," and "It's Okay to Be Quirky" Fox lays out the basics for getting and keeping the best employees. With input from CEOs of some of America's largest corporations, Fox manages to get to the heart of what makes a great leader, and how to avoid the worst thing that can happen to a department or a company: mediocrity. This is a must-buy for anyone who has employees: whether he is an entrepreneur, a mid-level manager or the CEO of a major corporation.
---
Potluck at Midnight Farm by Tamara Weiss, Photographs by Nina Bramhall
Clarkson Potter, April, 2002
Hardcover, 240 pages
ISBN: 0609609092
Ordering information:
Amazon.com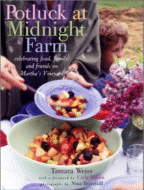 Potluck suppers are always fun -- so maintains author Tamara Weiss, who is the co-owner with Carly Simon of Midnight Farm, a home furnishing store on Martha's Vineyard. Tamara and Carly grew up together on the island, and have maintained a close friendship which, over the years, included lots of potluck suppers on the island. This cookbook/ style guide showcases over 100 recipes from potluck dinners either hosted by or attended by the authors. The sections are divided by season, with appropriate recipes for each time of year. Each recipe is accompanied by an anecdote about the dish explaining why it is special to the cook who contributed it. The recipes are also accompanied by beautiful color photographs of the food, and of the parties and guests. Seafood and fresh vegetables are prominently featured, as are delectable fruit desserts, such as Summer Strawberry and Peach Pie. Standouts include Corn Spoon Pudding, Island Blue Crab Marinara, Chevre, Sun-Dried Tomato, and Asparagus Wraps, Caramalized Onion Tart, Stuffed Baby Quahogs, and Grilled Corn Guacamole. Desserts include Cherry Pie, Cappuccino Dips, Fruit Croustade with Brandy Sauce and Chocolate-hazelnut Fortune Cookies.
Potluck at Midnight Farm
gives a charming and delightful portrait of entertaining casually with delicious recipes, beautiful photographs and interesting anecdotes. It would also make a fabulous hostess gift.
---
Nonfiction Book Reviews
Page One
|
Page Two
Click Here to Return to the Book Reviews Index
---
More from Writers Write
---