Nonfiction Book Reviews
Page One of Two
Fight Fat After Forty by Pamela Peeke, M.D., M.P.H
Viking, April 2000.
Hardcover, 493 pages.
ISBN: 0670889199.
Ordering information:
Amazon.com.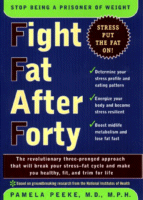 Dr. Pamela Peeke explains the scientific link between stress and weight in this self-help book. Dr. Peeke introduces the concept of "toxic weight" in which people under a high amount of stress keep a constant flood of abnormally high cortisol, or stress hormone, in their bloodstream. This results in an unrelenting appetite for fat and carbohydrates. The book goes on to tell you how to use this knowledge to lose weight, including advice on diet, exercise and stress reduction by using three templates: stress-resilient nutrition, stress-resilient physical activity and stress-resilient regrouping. The book also includes a special section for navigating the CortiZone, the danger time for stress eating when we are most vulnerable. Also introduced are concepts such as the Carbohydrate Clock, which tells you when healthy starches should be eaten and high quality/low-stress foods that help stress hormones under control and minimize carb and fat cravings.
Fight Fat Over Forty
is a welcome addition to the growing number of self-help exercise and diet books on the market. Finally, there is a reference that shows us a clear correlation between stress and fat and gives us some tools to help neutralize it. Pamela Peeke, M.D., M.P.H., investigated the link between stress and fat at the National Institute of Health as a senior research fellow. Dr. Peeke's research is compelling and simply validates what most executives have suspected for year: stress makes you fat. The diet and exercises are sensible and well-thought out. The book also contains encouraging advice and profiles of people who have found success through Peeke's suggestions. This is not a quick read, but readers who are serious about losing weight and minimizing their stress levels, will discover lots of valuable ideas and concepts.
---
Get Your Share by Julie Stav with Deborah Adamson
Berkley, April 2000.
Hardcover, 179 pages.
ISBN: 0425173925.
Ordering information:
Amazon.com.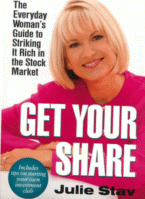 Get Your Share
provides investing advice and techniques for women looking to improve their financial position. The book provides an introduction to investing, covering such topics as investing basics, picking stocks, psychology and the market, mutual funds, starting investment clubs and how to allocate your money. Specific stock market concepts and strategies covered include PROFIT, a method for picking stocks, P/E, EPS, stock patterns, moving averages, a list of rules for when to sell a stock and the three-drawer system, a method for organizing your investment portfolio.
Julie Stav, a financial planner and broker, offers her investing techniques and strategies in an easy-to-follow and encouraging manner that helps the reader understand the stock market and get going on their own investing. "For my strategy, the key to success is as simple as this: Date your stocks, don't marry them. Try them out but don't hesitate to say, "Thanks for a great evening, good night," to those that don't cut it." Stay also points out that women are naturally better investors than men in that women are more likely to spend time researching the stocks and are also more likely to ask questions about investing than men -- which keeps them from investing irrationally or over-confidently as men often do. Women also form investment clubs to help each other, which Stav explains how to do in a chapter in the book.
Get Your Share
is a handy and informative introduction to investing for women.
---
Nonfiction Reviews
Page One |
Page Two
Return to Book Reviews Index
---
More from Writers Write