Nonfiction Book Reviews
The Internet Writing Journal
Page Two of Two
How to Become a Rainmaker by Jeffrey J. Fox
Hyperion, May 2000.
Hardcover, 169 pages.
ISBN: 0786865954.
Ordering information:
Amazon.com.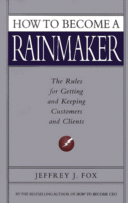 How to Become a Rainmaker
provides practical advice and wisdom about how to make sales and bring in new customers. Some of the key concepts introduced in the book are: fish where the big fish are, show them the money, dollarizing, killer sales questions, don't drink coffee on a sales call, treat everybody you meet as a potential client, always do an investment return analysis, never be in a meeting, dare to be dumb, sell on Friday afternoons, a shot on goal is never a bad play and don't make cold calls. Each concept is also enforced with explanations and real-world examples.
Jeffrey J. Fox, author of the
How to Become CEO
and founder of Fox & Co., a marketing consulting company, provides plenty of practical and inspirational advice in this guide that is sure to make a better salesman out of you. As Fox explains learning how to keep and attract customers is essential to any employee and the most valued employees are those that learn the skills that help bring in and keep customers. Sales professionals and corporate employees who yearn to break out of the mold and excel in their profession can take a big step towards that goal with this book.
---
In the Beginning... Was the Command Line by Neal Stephenson
Avon, 1999.
Paperback, 151 pages.
ISBN: 0380815931.
Ordering information:
Amazon.com.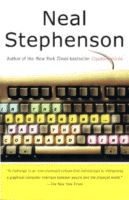 This account of the development of computer operating systems and the reaction of users and computer professionals to different operating systems is both funny and insightful. Neal Stephenson, author of
Cryptonomicon
, writes in a literary, witty style as he uncovers the development of operating systems, his falling out with Macs and his explanation of why people actually continue to use Windows. Stephenson covers operating systems including MacOS, Microsft, BeOs, Unix and Linux and also touches on Disney World and GUI. Stephenson attacks both Apple and Microsoft in the process, including the loyal users who settle for either of these choices for an operating system.
Stephenson provides lots of technical backup to his trouncing of Windows and MacOS -- much to the delight of techies and hackers. Despite his jabs at Microsoft, Stephenson has this to say about the company being a monopoly: "The U.S. government's assertion that Microsoft has a monopoly on the OS market might be the most patently absurd claim ever advanced by the legal mind. Linux, a technically superior operating system, is being given away for free and BeOS is available at a nominal price. This is simply a fact, which has to be accepted whether or not you like Microsoft." Whether you are infatuated with Stephenson's points about Windows or MacOS being unsophisticated and overpriced operating systems or not, he does provide a great deal of insight into why people argue about Macintosh versus Microsoft, why hackers prefer Linux or BeOS and about the quality of operating systems in general.
In the Beginning… Was the Command Line
is a very enlightening and entertaining look into the development of the operating system, which has become a very hotly debated subject as of late. Stephenson currently prefers BeOS over its more prominent rivals, but one wonders how long it will be before he sours on this operating system, too. In any event, his book is a must-read for anyone trying to understand the great operating systems wars.
---
The Wedding Guide for the Grownup Bride by Shelley Christiansen
Berkley, May 2000.
Paperback, 209 pages.
ISBN: 0425174360.
Ordering information:
Amazon.com.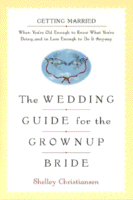 The unique wedding guide focuses on brides who are getting married for the first-time or remarried later in life. The author of the book, Shelley Christiansen, was married for the first-time at age 46. The book addresses circumstances that older brides encounter when getting married. Some are unique to their age and some are common to all brides. Some of the subjects covered include: engagement, family reactions, ex's reactions, motherhood, careers, prenups, wills, showers, bachelor parties and surnames. Information provided in the book that involves planning the wedding includes: the rehearsal dinner, the guest list, invitations, wedding dresses, attire, vows, flowers, photos, video, reception, wedding cake and managing gifts. For each topic addressed, Christiansen also includes a handy quick reference list of points to consider. She also addresses some issues to deal with after the wedding, including living together, privacy issues, meddling, where to live and what to do with all the stuff. This is a truly valuable guide for women getting married later in life.
---
Nonfiction Reviews
Page One
|
Page Two
Return to Book Reviews Index