Nonfiction Book Reviews
Page One of Two
American Horticultural Society Plant Propagation edited by Alan Toogood
DK Publishing, April 1999.
Hardcover, 320 pages.
ISBN: 0789441160.
Ordering information:
Amazon.com.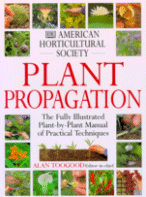 This comprehensive planting reference from the American Horticultural Society (AHS) provides an introduction to plant propagation including basic planting techniques, plant classification, planting tools and specific instruction for growing over 1,500 plants. The reference begins with an introduction to plant propagation covering the history of propagation, propagation methods and techniques, types of soils, equipment, climate, environment and plant problems. The rest of the book provides specialized guides for growing different kinds of plants including: garden trees, shrubs, perennials, annuals, cacti, bulbous plants and vegetables. Each section begins with a detailed introduction explaining the basic principle and techniques applied to the plant group covered in the section. Individual plant descriptions include step-by-step propagation techniques, information about the plant's specific needs, photographs, and growing tips.
AHS Plant Propagation
is a superb planting guide. The reference provides coverage of almost every type of plant one could conceive of planting, complete with illustrations showing proper technique, planting tips, plant success rates, appropriate planting times and practical advice. A must-have for any serious gardener or landscaper.
---
The Complete Guide to Flower Arranging by Jane Packer
DK Publishing, January 1999.
Trade Paperback, 181 pages.
ISBN: 078943752X.
Ordering information:
Amazon.com.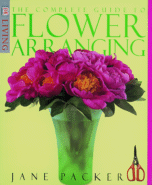 This colorful reference provides flower arranging instruction which is enhanced with beautiful photographs of flowers and flower arrangements. The book includes information about creating arrangements for both fresh and dried flowers. The resource begins with the basic principles of flower arranging, including arrangement styles, how to choose flowers, color schemes and balancing containers and flowers. The next section covers fresh flowers with step-by-step instruction and photographs for flower arrangements including: foam-based arrangements, vase displays, plant arrangements and large-scale arrangements. For example, the mantelpiece arrangement (a large-scale arrangement) is described through words and pictures, enabling the reader to recreate the stylish arrangement of potted plants on a mantelpiece. The section for dried flowers covers both small-scale and large-scale displays. The book also includes sections on flower arrangements for special occasions for both fresh and dried flowers. The final section in the book covers materials and skills necessary for good flower arranging, including essential equipment, preparing and treating flowers, wiring, binding wired stems, making bows and preserving plant materials.
The Complete Guide to Flower Arranging
is a comprehensive and attractive reference for novices. The seasonal fresh and dried flower sections are especially lovely with examples of picturesque wreaths, pretty posy displays and gorgeous wedding bouquets which you too can create, with a little help from the author, Jane Packer.
---
Nonfiction Reviews
Page One |
Page Two
Return to Book Reviews Index
---
More from Writers Write