Nonfiction Book Reviews
Page Two of Two
Anam Cara by John O'Donohue
HarperCollins, Sep., 1997.
Hardcover, 231 pages.
ISBN: 0060182792.
Ordering information:
Amazon.com.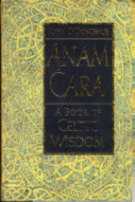 Irish poet, philosopher and Catholic priest John O'Donohue has taken on a mighty task: reconciling Christian beliefs with the Celtic way of life and making the spiritual knowledge of the Celts accessible and meaningful to a modern audience more at home with faxes, computers and deadlines than spiritual peace. He succeeds admirably. Anam Cara means "soul-friend" in Gaelic and is an apt title for a book that takes the reader on a spiritual journey through a series of essays on such subjects as the mystery of friendship, love, aging, death and the modern world. Using the ancient spiritual tradition of the Celts and their vision of the world -- the indivisibility of the visible and the invisible, time and eternity and the human soul from the Divine -- O' Donohue creates a powerful work which is as inspiring as it is uplifting. An insightful, moving and unique work.
---
The Guerrilla Girls' Bedside Companion to the History of Western Art by the Guerrilla Girls
Penguin, Feb., 1998.
Trade paperback, 95 pages.
ISBN: 014025997X.
Ordering information:
Amazon.com.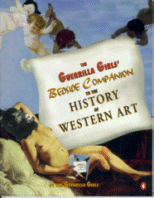 The Guerrilla Girls -- that group of anonymous female artists and art professionals wearing gorilla masks who have been setting the art history world on its head since 1985 -- are back with this witty and irreverent look at over 2000 years of the art history of the Western world. The Girls examine the dominant role of the white male in the art world for the past several centuries and the role that women played during the same time periods. The book features original graphic treatments of various works of art, including a comic-book detailing the life of a Renaissance girl artist and letters of encouragement from (mostly-unappreciated) women artists from the past. Also included is a list of do's and don'ts for girls in each era as well as shocking, yet historically accurate quotations and statistics illustrating the ridiculous double standards of the time.
Always witty and oftentimes downright hilarious, The Guerilla Girls' latest outing is sure to please artists, historians and those who enjoy some humor and a fresh perspective with their art history.
---
The Complete Guide to Consulting Contracts, 2nd ed by Herman Holz
Upstart Publishing, March, 1997.
Trade paperback with diskette, 255 pages.
ISBN: 157410070X.
Ordering information:
Amazon.com.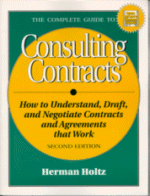 Anyone who works as an independent consultant knows how important it is to enter into agreements which are binding and enforceable and which will ensure that the consultant gets paid fairly and on time. Author and consulting expert Herman Holtz with the assistance of legal experts has put together this invaluable tool for any independent consultant. Holt teaches you how to negotiate and write effective contracts without using a lawyer. Also included is a diskette with 40 model agreements and clauses, including: confidentiality and nondisclosure clauses, letter of agreement, service agreement with computer consultant, licensing agreement, assignment of copyright, agreement for two or more partners, notice of breach of contract and many more. Holtz also gives simple explanations of why consultants need contracts, descriptions of the basic types of contracts and the types of clauses that are included in various types of agreements and negotiating tips. The diskette comes with built-in software for using the forms, or they can be used with word processing programs. With easy to understand explanations and the numerous forms on diskette,
The Complete Guide to Consulting Contracts
is an invaluable reference guide and tool for independent consultants in any field.
---
Non-Fiction Reviews
Page One

Return to Book Reviews Index