Nonfiction Book Reviews
Page One of Two
Eyewitness Travel Guides London : Millennium Edition by DK Publishing
DK Publishing, October 1999.
Paperback, 431 pages.
ISBN: 0789448904.
Ordering information:
Amazon.com.
For vacationers planning a trip to London, the
Eyewitness Travel Guide
is an essential companion. The book provides information on everything available to tourists in London including historic buildings, landmarks, gardens, museums, theatres, hotels, restaurants, cafés, pubs, shops and markets. The listings include complete descriptions and full-color photographs. Some listings also include cutaways and floor plans to help you explore historic buildings and landmarks. The book includes special sections for each section of London, including Whitehall and Westminster, Hampstead, South Bank, Kensington, Chelsea and the city of London, with highlights of the best sites and activities in each region. Also included are detailed maps of London complete with a street finder index.
London makes a fabulous tourist spot. With this book as your guide you can be sure you won't miss any of the wonderful sites and you'll be able to pick the hotels, pubs and restaurants that best suit you. Don't leave for London without it!
---
Healthy Exchanges Cookbook by JoAnna M. Lund
Perigee, October 1999.
Paperback, 237 pages.
ISBN: 0399525548.
Ordering information:
Amazon.com.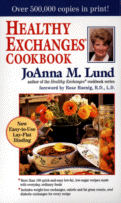 The
Healthy Exchanges Cookbook
is a collection of recipes which author JoAnna M. Lund has selected because they are low in fat and sugar and high in taste appeal. In addition to the low fat, low sugar and high taste appeal restrictions, JoAnna also follows these rules before allowing a recipe into her book: "If it takes longer to cook it than eat it, forget it," and "If I can't find the ingredients in my local supermarket, then the recipe doesn't go in the book." In addition, it has to satisfy the hungry appetite of her truck-drivin' husband, Cliff. The book provides recipes for a broad range of foods including: soups, salads, vegetables, main dishes and desserts. Some of the 160 recipes in the book include vegetable soup, Swiss potato soup, spinach salad, garden pasta salad, tomato pie, zesty broccoli, fettuccine Alfredo, deep dish pizza, Salisbury steak, fresh peach pie, blueberry mountain cheesecake, rodeo omelet bake and salsa dip. Each recipe listing includes fat and sugar content plus a special listing of diabetic data (calculated by a registered dietitian). In addition to recipes, the book also includes an introduction to Healthy Exchanges, rules for success, a guide to the nutritional information listed in the recipes, cooking tips and a list of JoAnna's favorite food brands. The
Healthy Exchanges Cookbook
provides practical advice and a great collection of recipes for healthy American-style food that tastes good and is good for you.
---
Nonfiction Reviews
Page One |
Page Two
Return to Book Reviews Index
---
More from Writers Write