Nonfiction Book Reviews
Page Two of Two
Uplift: Secrets from the Sisterhood of Breast Cancer Survivors by Barbara Delinsky
Simon and Schuster, September, 2001
Hardcover, 293 pages
ISBN: 0743431367
Ordering information:
Amazon.com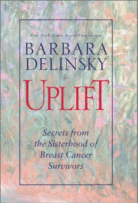 " I like my anonymity. For that reason,
Uplift
is an aberration for me. But if ever a cause was near and dear to my heart -- and therefore worth the risk of putting my private self out there -- breast cancer is it." So writes bestselling novelist Barbara Delinsky (
Coast Road
,
The Woman Next Door
) in the Foreword to her incredibly inspiring new book,
Uplift: Secrets from the Sisterhood of Breast Cancer Survivors
. Delinsky lost her own mother to breast cancer, and is also a survivor of the disease which strikes millions of women each year.
Uplift
is not a technical, medical guide about about the causes and cures of breast cancer. Rather, it is a collection of stories from women (and even some men) of all ages, races and walks of life. The chapters cover such issues as: On Diagnosis, Losing a Breast, Radiation, Chemo and Hair, Taking the Reins, Family, Friends, The Workplace, Support Groups, Humor, Men, Exercise, Religion and Pure Uplift.
The anecdotes are incredibly helpful about the practical side of breast cancer that the doctors don't talk about: what foods will help with the nausea from chemo, how to talk to friends about your condition, body image and the shock and ways of dealing with the loss of one's hair. The stories are, by turns, moving, practical and even funny. Throughout the book, Barbara Delinsky's compelling and warm style make the reader feel as if she has found a new friend to help her through the ordeal that is breast cancer. Highly recommended for those with cancer and for anyone who knows someone who has been touched by it. [Note: the author is donating all the proceeds of the book to breast cancer research]
--Claire E. White
---
Surviving Ophelia by Cheryl Dellasega, Ph.D.
Perseus Publishing, Oct., 2001
Hardcover, 256 pages
ISBN: 0738205087
Ordering information:
Amazon.com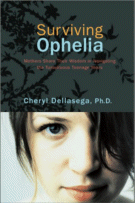 Only recently have parents been speaking openly about their struggles with tormented teen girls ("Ophelias"), many of whom struggle with eating disorders, depression, suicidal behavior and other problems. In
Surviving Ophelia
, Cheryl Dellasega, Ph.D., a tenured Associate Professor at Penn State College of Medicine, bravely and frankly details her struggle with her daughter's anorexia, bulimia and severe bouts of depression which landed her in and out of psychiatric wards during her high school years. Dr. Dellasega has reached out to other mothers who are going through the same experiences. The result is a moving and disturbing book which sheds light on a problem that is becoming all too common in today's society which values fitting in above all else. This pressure to fit in and to conform is seen at its worst in the large, American high schools, such as Columbine.
Each chapter opens with a story about Dr. Dellasega's struggle with her daughter Ellen, and then conversationally explores stories on a similar theme from other mothers --- who are dealing with everything from drug abuse to self-mutilation, oftentimes seen in upper-class girls who have loving parents and no major traumas in their past to account for the mental disturbances.
Surviving Ophelia
does not offer pat advice or even absolutes in a subject that seems to have even mental health professionals baffled at times, although the book does raise some very interesting issues about the potential causes and cures of the problem. What it does offer is hope and companionship to parents who need to know that they are not alone.
--Claire E. White
---
The Naked Chef Takes Off by Jamie Oliver
Hyperion, Sept., 2001
Hardcover, 285 pages
ISBN: 0786867558
Ordering information:
Amazon.com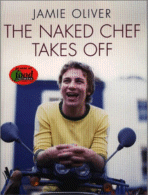 Youthful chef Jamie Oliver has become something of a sensation on both sides of the Atlantic. The good looking and talented chef is back with a follow up to his bestselling cookbook,
The Naked Chef
. The naked part does not refer to the chef's lack of attire when cooking, rather, it refers to his philosophy of fresh, easy to cook, streamlined food. His philosophy seems to be working; he has inked a deal for a new series of cooking shows on the Food Network. His new book is divided into sections: Make Life Easy, Potty about Herbs, Morning Glory, Tapas, Munchies and Snacks, Simple Salads and Dressings, Soups and Broths, Pasta and Risotto, Fish and Shellfish, Meat, Poultry and Game, Vegetables, Bread, Desserts, Bevvies, and Stocks and Sauces.
The irrepressible Oliver writes with a chatty, conversational style which is hard to resist. Whether he's waxing rhapsodic about fresh herbs or detailing the perfect midnight snack after you've been out drinking with your mates, his personality shines through and his passion for cooking and for life are evident. The dishes range from the simple to prepare (Beefsteak Tomatoes, Basil, Ham and Mild Cheese on Thick Toast) to the more demanding (Braised Five-hour Lamb With Wine, Veg and All That). What is consistent is Oliver's flair with spices and flavors, for which he is deservedly praised. Most of the dishes are not difficult to prepare, but instead rely on getting the best, fresh ingredients available, as in Seared Encrusted Carpaccio of Beef, Baked Jerusalem Artichokes, Bread Crumbs, Thyme and Lemon, or Farfalle With Savoy Cabbage, Pancetta, Thyme, and Mozzarella. His pasta, risotto and bread recipes are all excellent. Once you have mastered the basic recipes for each, you can expand on them to create multiple, delicious variations. He has some delicious desserts, as well. This is an imaginative and useful cookbook which is sure to stir your creative juices.
---
Nonfiction Reviews
Page One
|
Page Two
Click Here to Return to the Book Reviews Index
---
More from Writers Write
---