Nonfiction Book Reviews
Page One of Two
The Coming Storm by Bob Reiss
Hyperion, September, 2001
Hardcover, 323 pages
ISBN: 0786866659
Ordering information:
Amazon.com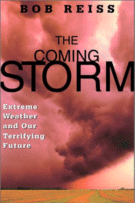 The Coming Storm
covers the unusual weather patterns and phenomena that have been occurring since the 1980s and the belief of many scientists that this is only the beginning of some catastrophic weather changes. Global warming is the focus of the book, and author and journalist Bob Reiss does a superb job of describing the origins, politics and science behind the concept of global warming. Reiss, a former
Chicago Tribune
reporter, details storms and weather patterns that could be a result of global warming. Reiss also explains what global warming could do to Earth and details how even some people and scientists who were skeptics at first moved into the believer category. The coverage of Al Gore's dedication and attention to the problem of global warming is also well-documented in the book. Big oil companies' reactions and objections to the concept of global warming are also discussed, including how some oil companies hired their own scientists to create scientific documents disputing global warming. Not all the energy companies are ignoring the issue, however, and Reiss explains what some companies are doing to help. And of course there is plenty of discussion of recent unusual severe weather events, including droughts, floods and tornadoes, as well as suggestions on where this may all be headed.
Some of the many things in this book that will stay with you are the severe storms that have struck England, the chance that the Maldives and other island countries may go completely underwater within the next fifty years, the spread of foreign, tropical diseases into the U.S. because of increasing temperatures, and the possibility that severe weather could upset the leadership in third world countries, leading to revolution and war.
The Coming Storm
is a well-written, exciting account of the growing global warming concern and the politics and science involved. Anyone interested interested in the future of our planet should read this book. Highly recommended.
---
The Mediterranean Vegan Kitchen by Donna Klein
HP Books, May, 2001
Trade paperback, 251 pages
ISBN: 1557883599
Ordering information:
Amazon.com
One would have had to have been hiding in a cave in Afghanistan not to have heard all the hype over the past few years about the miraculous Mediterranean diet. The diet, which is rich in whole grains, fresh fruits, vegetables, and olive oil is quite good for the human heart. Donna Klein has written a cookbook focusing on those Mediterranean dishes which are totally vegetarian: they do not utilize meat, eggs or dairy in even the smallest amounts. By simply finding those native dishes which conform to these parameters, instead of taking other dishes and substituting ingredients, Klein has put together a large number of healthful and delicious recipes which any vegetarian will love.
Appetizers include Bruschetta With Tomatoes and Basil and Catalan Tomato Bread. Main courses include Zucchini-Lemon Couscous, Farfalle With Sauteed Radicchio, Fennel and Toasted Walnuts, Penne With Porcini Mushroom Sauce and Squash Gnocchi With Walnut Sauce. Herbed Scalloped Potatoes, Provencal Style has not a drop of milk in it, yet it is creamy and delicious. The desserts are mostly fruit-based, and make a healthful ending to a delicious meal in which your guests won't miss either the meat or the dairy products.
---
Nonfiction Reviews
Page One |
Page Two
Click Here to Return to the Book Reviews Index
---
More from Writers Write